Elon Musk rebranded Twitter as "X" last month, and now the company wants to shed its old blue feathers and embrace its slick, new identity as X.
In an epic garage sale to cleanse the San Franciso HQ of all Twitterverse memories, X CEO Musk and company are auctioning off 584 lots online.
The inventory includes a Bird Cage with a Hanging Sofa (Daybed) Swing, a Twitter Bird Wood Coffee Table, and Neon "@" and "#" Marquee Light Signs.
Photo by HGP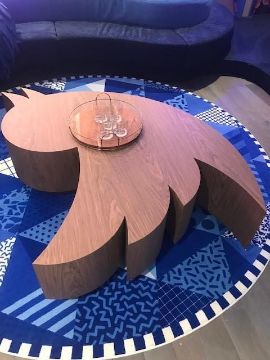 Photo by HGP
Not all items are Twitter related. For example, there's a large oil painting of Ellen Degeneres' 2014 Oscar selfie, a reconstructed wood barn from Montana, and an image of Barack Obama hugging Michelle Obama entitled "Four More Years."
Photo by HGP
Most wares up for auction are your typical office furniture and kitchen appliance variety (although not every office has a beer dispenser). But there is also an unusual amount of musical equipment, making the office seems more like a former recording studio than a social media platform. Interested shoppers will find multiple acoustic and electric guitars, keyboards, drums, and amps. There is also a DJ booth.
Photo by HGP
Twitter has auctioned its stuff before
This is not Musk's first auction rodeo. A few months after he purchased Twitter, he revamped its offices for what he called "Twitter 2.0," auctioning hundreds of items such as a blue bird statue.
Some of those items appear not to have sold the first time around, including the @ marquee sign.
Photo by HGP
How to bid
The "Twitter Rebranding" auction is helmed by Heritage Global Partners (HGP). It starts on September 12, 2023, at 7 am PT and ends on September 14 at 9 am PT.