A business intelligence dashboard (BI dashboard) is a data visualization tool that displays on a single screen the status of business analytics metrics, key performance indicators (KPIs) and important data points for an organization, department, team or process.
Essential features of modern BI dashboard software include a customizable interface, interactivity and the ability to pull real-time data from multiple sources; these features represent a significant advance over older, static dashboards. BI dashboards are also now an integral component of most leading cloud-based analytics platforms. The popular self-service analytics model — nearly always delivered from the cloud as SaaS — is, in large part, based on BI dashboards that enable end users to quickly visualize data they have selected.
Benefits and limitations of BI dashboards
BI dashboards are increasingly seen as critical tools for enterprises to derive instant and longer-term insights from their growing storehouses of big data and to enable better informed decision-making and data analysis. They enable enterprises to make number-intensive data easily comprehensible and useable for nontechnical decision-makers. Sophisticated and colorful dashboard design provides multiple visualization possibilities for critical data.
Drawbacks of BI dashboards don't necessarily result from the design of the software, but rather from how the dashboards are used, the expense and the difficulty of installing them. While most BI dashboards are relatively self-service, enterprises generally must use IT professionals to implement the technology.
Other challenges include overly flashy or cluttered design, trying to include too much information without constraining raw data enough and difficulty plumbing surface metrics for underlying data.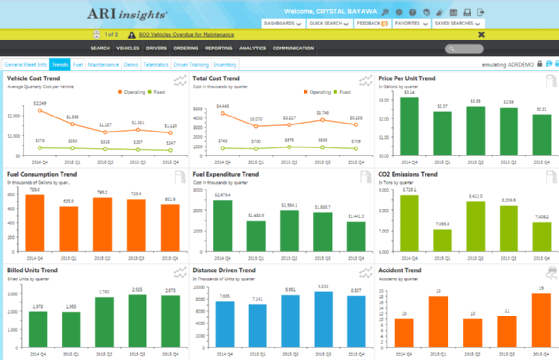 BI dashboard design best practices


An expert provides a BI beginner's tutorial.
A good dashboard design presents business insights derived from data in a way that's easy to understand. The dashboard components provide different overall views of the data and allow users to drill down to see more granular data, as well.
In general, dashboard best practices:
involve end users in BI dashboard design;
refine design during development using iterative approach;
precisely identify data to be tracked;
allow for customization by different sections of the enterprise;
keep BI dashboard data current; and
include actionable information.
BI dashboard vendors
Major vendors of modern analytics and BI platforms — all of which include BI dashboards in their product lineups — include Tableau, Microsoft, Qlik, MicroStrategy, Sisense, Salesforce, SAS, SAP, Tibco and IBM. Some vendors — notably Tableau and Microsoft, with its Power BI platform — provide various levels of product licensing, including options in which users can get a view-only license that doesn't include its own analytics capability, but relies on analytics applications from third parties.