A round-up of openings, closings, and other news about West Hartford businesses. 
Business Buzz is sponsored by NBT Bank, and we are very thankful for their support!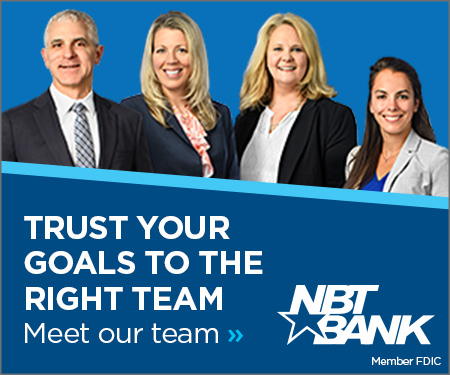 By Ronni Newton
It was another beautiful weekend, and I hope all the moms out there had a wonderful Mother's Day!
And by "moms" I also extend that to anyone who has taken on the role of a mother. Sometimes a "mother" can also be a dad, or a grandparent, or an aunt (shout out to my sister who beyond being "cool aunt" has certainly taken on a "mother" role with my kids), or a mother-in-law. And people "mother" their biological children, adopted children, foster children, pets …
Since Katie has definitely been taking care of "Champ" even though he's not due to be born for another two months, we celebrated her on Mother's Day this year as well.
We also celebrated Millie's 4th Birthday this week, which was on Friday!
Ted and I attended the Playhouse on Park "Encore! Razzle Dazzle" fundraiser at The Society Room of Hartford on Saturday night. It was a great event, and what a fabulous venue. I had never been there before, and was absolutely obsessed with the ceiling and other architectural elements of the space. You can see that in the extensive photo gallery from the event that I published on Sunday. Most attendees really got into the "Art Deco Chic" recommended dress code, too.
Earlier on Saturday I got a chance to check out the full-scale disaster drill conducted at Conard – which included a walk-through of the inflatable showers. You can read the full story here. (And in case you're wondering, even though the colors are similar I wasn't wearing the dress I'm wearing in the photo above when I was at the disaster drill.)
Ted and I both had a really busy week last week – that included a steady stream of contractors fixing things in the house – and luckily had a lot of leftovers to eat for our hurried dinners but by Thursday we were out of food. It was a beautiful night and we grabbed some beers and quick bites at WeHa Brewing and Roasting.
Among the contractors who were working at our house last week was Adam Kaminski of GQ Renovation – who did a beautiful job reglazing the tub and the tile walls of the hall bathroom in our 93-year-old house. The tub and tiles had been reglazed at some point before we moved in 25 years ago, and a refresh was very long overdue. Combined with replacing the tub fixtures (thanks, Macca Plumbing!) it was definitely a cost-effective way of refreshing the bathroom – and done just in time for the arrival of house guests next weekend. I am embarrassed to share the "before," but here is the "after" view of the tub.
West Hartford is still on the COVID-19 map with 6 cases as of Saturday and a positivity rate of 8.1%. I'll still keep the tab open and check weekly, but soon there won't be anything to check. With the expiration of the COVID-19 public health emergency on May 11, the governor's office announced the end of the reporting as of June 1. Going forward, the plan is to report on COVID-19 seasonally, like the reporting of influenza.
If you're looking for news about West Hartford in print please note that many stories from We-Ha.com, as well as other local news, is published in the twice-monthly issues of the West Hartford Press.
If you have information to share about local businesses, please provide details in the comments or email Ronni Newton at [email protected].
**************************************************
Here's this week's Buzz:
Boost Bowls will have its grand opening on Wednesday, May 17, starting with a ribbon cutting at 4 p.m., but I got a chance to sample an açaí bowl last week during a sneak peek into the soon-to-open shop at 981-A Farmington Avenue. There weren't too many renovations to do, but the former home of classic New England fare (LobsterCraft, which featured lobster rolls) has been transformed into a space featuring a classic Brazilian street food item. "It's just so amazing," said Tatiana Mehmeti, CEO of Boost Bowls which she co-owns with her husband, Val. This is their third location, but the first to be franchised and is owned/operated by Nicole Bartel, who had been one of the managers at the Newtown location. Açaí bowls are the main attraction at Boost Bowls, and expected to be the most popular seller in West Hartford, Mehmeti said. At the other locations, many customers opt for the popular "build your own bowl" option of a base (açaí – which is a Brazilian fruit, as well as pitaya which is a Brazilian dragon fruit, avocado, banana, and blue majik are also available), granola, and three toppings of your choice. There are also extra large size bowls, available in a mason jar or a half pineapple. It was very hard to decide, but I sampled the açaí topped with mango, blueberry, and almond flakes. The açaí is sweetened with banana and pineapple (no added sugars or preservative in anything at Boost Bowls), and very thick and creamy. The granola is all organic, and gluten-, nut-, and soy-free. They also feature salads – with all dressings made in house – toasts (prepared on fresh sourdough bread), sandwiches, and a chunky quinoa bowl. You won't find deli meat sandwiches, but they do offer items that include chicken, including a chicken Caesar wrap that includes chickpeas as an added touch. They also offer made-to-order fresh juice, smoothies, and specialty juice cleanses. Many shops that feature açaí bowls are beach-themed, but Mehmeti is from Brazil – and that's where açaí comes from – and she said Boost Bowls will have a different feel to it. "We want to be different, go for a more urban vibe, with a lot of positive energy," she said. In Brazil, açaí is street food that they eat for lunch, not just at the beach, she said. If you can make it to the grand opening get there early, because there will be free bowls to the first 50 customers and automatic entry into a contest to win two floor seats to the Beyonce concert at Gillette Stadium. For more information about Boost Bowls (they are also still hiring full- and part-time employees) visit their website. More photos can be found at the very end of the column.
On the heels of the plans submitted by Sami Abuansra to construct a mixed-use development at 1051-1061 New Britain Avenue, West Hartford's Design Review Advisory Commission has started review of plans for a second Transit-Oriented Development project. The plans for the as-yet-unnamed redevelopment of 579 New Park Avenue are very preliminary – the initial study session with DRAC just took place Thursday – and the rendering is primarily intended to show the massing of the structure on the site, currently occupied by Gozzo Design and Remodel. "As this is a very preliminary set of plans and the developer is early in the process, we expect changes to the proposal and plans that will be reviewed with DRAC," Economic Development Coordinator Kristen Gorski said. "On the plan set, it indicates 3,000 square feet of commercial and 70 units of housing, again, which may change," she said. I also asked Town Planner Todd Dumais about the project – which he will ultimately be able to approve under the terms of the town's Transit-Oriented Development ordinance, and he confirmed that the DRAC meeting was not to review a full submission, but rather was an informal study session. "There are no formal plans on file. The documents provided are essentially massing models and concepts generated to get the DRAC's feedback and suggestions on the concept in order to help prepare for a formal submission in the future," Dumais said, and it's expected that the developer – who is not ready to speak publicly about the project yet – will be back with more details. "I'm very excited for New Park Avenue and the Transit-Oriented Development district," Town Manager Rick Ledwith told me last week. "This is exactly what we hope to see developing." I'll definitely keep track of the progress of the application.
Fitness with Jonathan (FWJ) opened a new location at 1045 New Britain Avenue in mid-October, but kept their old space at 589 New Park Avenue and that has now been converted into a yoga/barre/pilates and kids fitness space. It officially opened on Sunday, and you can find out more about their programs at both locations and register for classes on the website or follow on Facebook or Instagram (@fitnesswithjonathan) for more details.
Mike Isko of West Hartford has been named Big Brother of the Year for 2023 by Big Brothers Big Sisters of Connecticut, the state affiliate of the 117-year-old Big Brothers Big Sisters of America youth mentoring organization. The recognition was presented at the Big Brothers Big Sisters of the Year Awards event, held recently at the Mark Twain House & Museum in Hartford. Isko, now retired, is an attorney who for many years led the New Britain public defender's office. For the past 10 years, he has been a Big Brother (adult mentor) to Little Brother (mentee) Trey Montgomery, a resident of New Britain. Mike and Trey both have jobs at the Mount Southington Ski Area. Mike is a skiing instructor. Trey teaches snowboarding. Pictured in the photo below taken at the annual awards event are, from left, West Hartford resident Andy Fleischmann, President & CEO of Big Brothers Big Sisters of Connecticut; West Hartford resident Mike Isko, the mentoring organization's 2023 Big Brother of the Year; and Trey Montgomery, a New Britain resident and Mike Isko's longtime mentee in the Big Brothers Big Sisters community-based program.
Thanks to the members of the West Hartford Women's Chorale – whose members can be found helping in many different community-based programs – the West Hartford Food Pantry has received a much-needed addition to its inventory, the organization shared in an email. Member Ali Appel and several chorale members who volunteer at the West Hartford Food Pantry, hear requests every week for feminine hygiene products when families pick up much needed food bags. Families on slim household budgets are often forced to choose between essential food and essential feminine supplies. Ali and Chorale members Lexy Davidoff, Marilyn Holt and Eileen Rausch decided to act. Working with Nancy Stockton, Food Pantry Coordinator, they appealed to the women of the WHWC to donate feminine hygiene products as well as essential food items to the Food Pantry. Community involvement is an important part of the Chorale's mission, and the members were generous in their response to this need and thankful to everyone who donated. For more information about the West Hartford Women's Chorale and its activities, go to www.whwchorale.org. For information about the West Hartford Food Pantry, including a list of what they need, click here.
This "I Spy" event, sponsored by the West End Civic Association, is just outside the boundaries of West Hartford, but looks pretty interesting! It begins at the food truck park near Tisane on Sunday, at 2 p.m.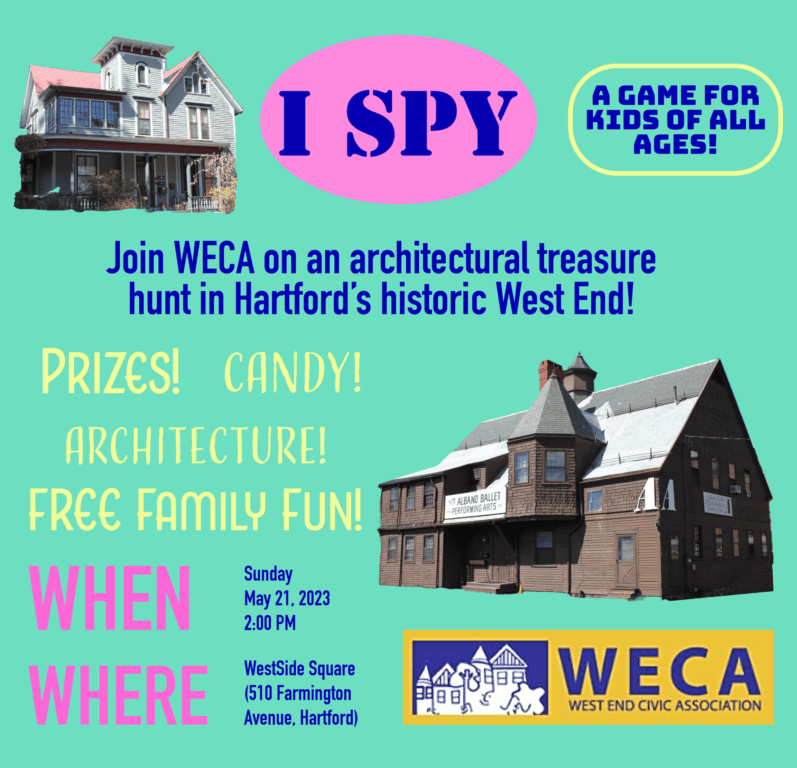 As they did in April and October 2022, Connecticut's wine and spirits industry is distributing funds generated from the state's "nickel-per-nip" environmental stewardship program to all Connecticut cities and towns where nips are sold. Under the program, each municipality receives 5 cents for each nip sold within its borders every six months. The money from this eco fee is intended for locally driven environmental stewardship programs. Last week, $2.4 million was distributed to cities and towns, and since the program began it has generated $6.6 million. "Studies show that most litter from nips happens very close to where the containers are purchased," Lawrence F. Cafero, Jr., President and Treasurer of Three Tiers for Connecticut and Executive Director of Wine & Spirits Wholesalers of Connecticut, Inc. said. "Studies show that most litter from nips happens very close to where the containers are purchased. This is why when legislators came to us looking for a solution, we built an eco-fee program to keep it local – because we make sure that the fees collected in each town stay in that town, with no hidden handling charges or 'sweeps' of money into the general fund like other programs. In just 18 months, this local solution has become a national model." There were 548,650 nips sold in West Hartford for the six-month period Oct. 1, 2022 through March 31, 2023, the nonprofit agency Three Tiers Connecticut reported, and earned $27,432.50. Since the program's launch, West Hartford has received $71,798.45. The most recent use of the funds in West Hartford was for the purchase "kitchen caddies" for those involved in the Blue Earth food waste compost pilot.

ICYMI, outdoor dining barriers have now been deployed in the Center and Blue Back Square. They will be painted with murals on Saturday morning, and the public is invited to observe. For all the details, including to see where the outdoor dining corrals are this year, click here.
Gov. Ned Lamont was at the A Dong Supermarket in West Hartford last week to speak about his budget proposal and observe AAPI Heritage Month. Click here for the complete story.
Remember, if you have any business news to share, add it in the comments section below or email Ronni Newton at [email protected].
Like what you see here? Click here to subscribe to We-Ha's newsletter so you'll always be in the know about what's happening in West Hartford! Click the blue button below to become a supporter of We-Ha.com and our efforts to continue producing quality journalism.