A round-up of openings, closings, and other news about West Hartford businesses. 
By Ronni Newton
Before I say anything else, I want to thank all who reached out to express condolences to our family following the death of Ted's dad. We really appreciate all of your kind words.
My sense of time still seems to be off, and although last week was a short work week, it felt like an incredibly long week.
Having just five days in between Business Buzz columns has probably added pressure to that feeling, and until Thursday I was afraid I might not even have enough content for this column. Then I went to Studio 2o South at the West Hartford Library on Thursday morning, and then on Friday and Saturday I became aware of several other news items that are detailed below!
I've been including this little ad about sponsoring Business Buzz in between the intro and the bullet points of this column for a few months, but I don't think anyone really notices it. We actively solicited sports sponsors last month, and have been thrilled to get several businesses that have expressed interest, so I'm also going to throw this out there in a more prominent location. If you have any interest in sponsoring this column (which gets thousands of page views every week), please contact our business manager, Bob Carr ([email protected]) or our sales director, Kaushik Makati ([email protected]).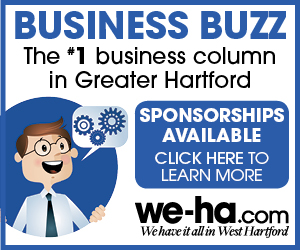 I haven't done my usual early January "white out" cleanse yet this year because I need five days in a row when I don't have anything that would interfere, but I have been craving a good salad and Sally & Bob's certainly fit the bill! I had a delicious Greek salad topped with grilled chicken for lunch on Thursday, and enjoyed my first meal in the new expansion space!
In last week's column I included details about Portobello Pizza Restaurant, which had just opened, but I didn't have a chance to sample the food in time for that column – so Ted and I went there on Saturday night. I was excited to learn that many other people in the restaurant had learned about the opening from Business Buzz, and we had a great mealA
Ted had been craving a calzone ever since I told him they were on the menu, and he asked owner Seyo Cecunjanin to surprise him with the ingredients and the result did not disappoint! I had the penne alla vodka which included asparagus and sun dried tomatoes – both great additions to this classic dish. There will be a full feature in the "West Hartford Dining" section of the February issue of West Hartford LIFE, so look for that for more information about the restaurant. And please note that while Portobello Pizza Restaurant was quite crowded around 6:30 p.m., they only have seating for 30 inside (plus a bubble on the patio) but the kitchen is open late (until 11 p.m. on the weekend) so if you don't want to wait for a table you may want to chose a less popular time. When Ted and I went at 8 p.m., we were seated right away.
There were 61 positive reported cases of COVID-19 in West Hartford over the past seven days (as of Saturday), and a positivity rate of 20.8% – and that's a pretty steep increase in just the past few days, and doesn't take into account the home tests that don't get reported to the state. Hartford County is also now in the CDC's "high" level of transmission, which means that wearing masks indoors is recommended. It's also the season of respiratory viruses, and this year many more people seem to be sick with a variety of viruses. (Click here for more information from the West Hartford-Bloomfield Health District about the symptoms of various viruses and how to protect yourself.) I still hope to be able to delete this paragraph that time has not yet come. In the meantime, please continue to have patience since not everyone has the same level of comfort, continue to look out for each other, support our local businesses – and stay safe and healthy.
If you're looking for news about West Hartford in print please note that many stories from We-Ha.com, as well as other local news, is published in the twice-monthly issues of the West Hartford Press.
If you have information to share about local businesses, please provide details in the comments or email Ronni Newton at [email protected].
**************************************************
Here's this week's Buzz:
Yes, I am actually lying down in the photo above, and keep on reading to find out why. … While many of you likely heard the sad news about Toy Chest closing as its owner and managers retire, there is already good news about the business moving into the space – and it is NOT a restaurant! Relax the Back, which has been located at 982 Farmington Ave. since 1996, will be moving across the street to the Toy Chest space at 973 Farmington Ave. in February, with a soft opening in late February and hopes for an official opening on March 1, owner Doug Faggiani said. I had actually never been to the store, and visited for the first time on Saturday to find out more details, and then I really didn't want to leave or to get out of any of the chairs I tested – which eliminate all pressure on the spine. The photo above is in one of the recliners, and below I was testing out the "champagne" massage chair, which enveloped me in complete and total relaxation (and this photo was before consultant Jah John added a weighted blanket). I thought the massage while getting a pedicure was incredible, but this was something else! Faggiani, who has owned the West Hartford store since the end of May 2017 (and also owns the Avon store, which is temporarily closed), explained how he ended up owning a Relax the Back franchise, which was actually kind of a fluke. Faggiani's oldest child is a quadriplegic due to cerebral palsy, he said, so Faggiani was already very knowledgeable about the spine and pain management – and then he personally was in a terrible vehicle crash involving a tractor trailer, and was temporarily paralyzed from the waist down. He recovered, and had retired from his corporate job, but occasionally had painful spells and one of those occurred while flying to California. His wife walked him into a store, had him sit down in a chair, "and I went pain free," Faggiani recalled. It was a Relax the Back Store. "I was so impressed," he said, and he just so happened to be near the company's California headquarters and went to inquire about available franchises. The West Hartford and Avon locations were available, and he and his wife, Meiyun, immediately seized the opportunity to purchase the stores and move to Connecticut. Faggiani, who is originally from New York and now lives in Granby, said it's been an asset having a background with the skills of reading an MRI and understanding back problems, and he loves being able to help people – with customers coming from as far away as Rochester, NY, and Boston. "Nobody needs to be in pain 24/7," he said. They've been bursting at the seams in the current location, and property manager Mike Mahoney, of RLM Co., has been on the lookout for a bigger space. He jumped at the chance when the Toy Chest space became available. According to John, a lifelong West Hartford resident who has worked for Relax the Back since 2019, the available retail floor space will increase from 800 square feet to about 3,000 square feet, and there will be basement storage space as well.  Relax the Back sells massage chairs, recliners, lift chairs, office chairs, and other ergonomic equipment, as well as mattresses and pillows. "Live wellness" is their motto, John said, and the businesses pillars are: "healthy sleep, healthy mind, healthy body, and healthy work." And the West Hartford store has a perfect five-star rating on Google, he added. "This will be my flagship store," Faggiani said. "I'm beyond excited. I'm stoked, I really am," he said, noting that he loves West Hartford, and the way the businesses care about and support each other – something he said is very rare in other towns and cities. "This is a very successful business growth story," said Mahoney. "It's a really cool thing for a business to be more than doubling their space." Mahoney said he already has interest in the 982 Farmington Ave. space, too.
John Lyons and I have been doing We-Ha Roundtable for several years, and we have also been considering adding a podcast for quite some time, and the Jewish Ledger and West Harford Magazine are also talking about launching a podcast, so several of us visited Studio 20 South last week for an introduction to what they have available. While I knew Studio 20 South had opened last year, I absolutely had no idea of the extent of the offerings of this facility which is inside the West Hartford Library's main branch on South Main Street, and is clearly one of the town's best-kept secrets. Sam Ferri – who has a background as a cartoon artist (he painted the "shoes" artbarrier mural in front of Zohara last summer and the "Banksy BowWow dog for Dog Walk 2022) is the coordinator for Studio 20, which is essentially a maker space with facilities for 3D printing and audio and video recording (including a sound booth and green screen) and editing. They also have a Cricut Maker, Occulus headsets, and equipment that will allow residents to convert videotapes to digital format – at no charge. In fact all the services they offer are free of charge to residents! "You have the tools to make your own podcast," Ferri told us, and while we were a bit intimidated, he and podcaster Benson Thai took us through a training program that showed us how to record and even do some editing of vocal tracks. Studio 20 South is open Monday through Saturday and can be reserved in two-hour increments for up to four hours per day. There are also training programs for podcasting that take place on the first Saturday of the month from 11 a.m. until 1 p.m., and Ferri said that they fill up quickly and he may add a second monthly session. For more details about the services that are offered, and the hours, click here. Everything in the display case in the photo below was made at Studio 20.
When I was speaking with Mike Mahoney at RLM Co., I asked him about some other spaces he manages. Although Arethusa had closed its cafe and dairy store at 975 Farmington temporarily at the end of the summer, they reopened in September just on Friday and Saturday from 1 until 9 p.m. and Sunday from 1 until 8 p.m. It was only supposed to be for a few weeks while they decided on a new location, but Arethusa remains open for those hours, and even expanded them during the holidays. Mahoney said the space if often packed, and there are no announced plans for a closing.  You can still purchase dairy products at Arethusa, and while the full cafe is not open, they are serving ice cream products, and milkshakes. Details about the new location, once that is announced, will be posted on the Arethusa website.
Mahoney said he also has a lot of interest in the former LobsterCraft space at at 981-A Farmington Avenue. LobsterCraft closed in early December.
H&M at Westfarms closed on Jan. 7, but the closing is temporary while the remodel the interior space. I'm getting an update about when the project is expected to be completed and will provide those details as soon as they are available.
New at Artisan at the Delamar to lighten up the winter months is a dinner and comedy series. Upcoming performers include Moody McCarthy on Jan. 18, Rodney Laney on Feb. 22, and Jon Fisch on March 15. Dinner is at 6:30 p.m. and the shows begin at 8 p.m. Tickets, which are $85 per person, are available here. Reservations can also be made by calling 860-937-2525.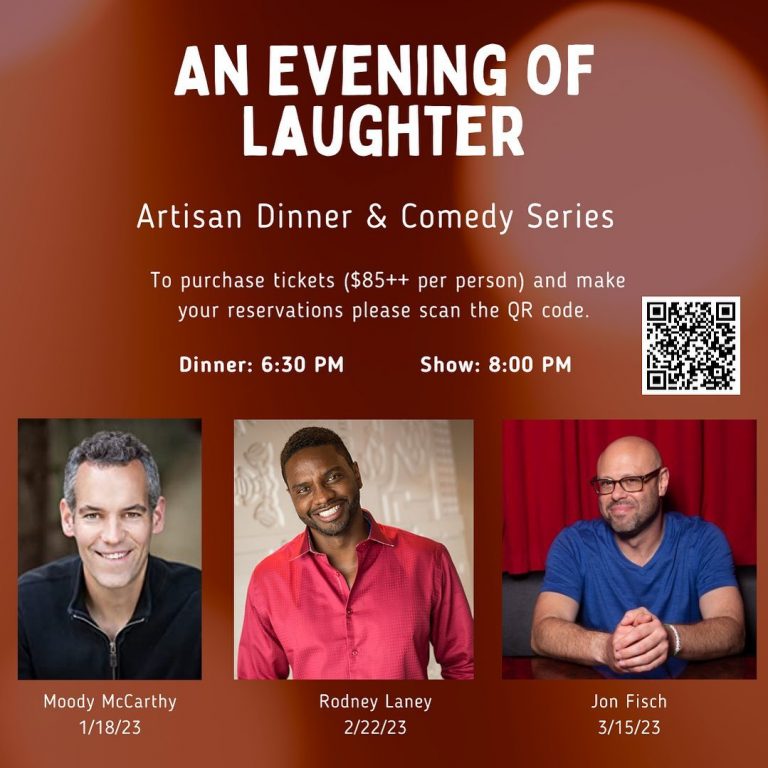 Boqueria signed a lease over the summer for the sizable restaurant space most recently occupied by Balos (and before that, Besito) at 46 South Main Street in Blue Back Square, and they now have permits for the build-out work they are planning. Boqueria's vice president of marketing had previously advised me that they hoped to open in the first or second quarter of 2023, and while I don't think it will be the first quarter, hopefully it will be soon! According to their website, Boqueria specializes in Spanish paella and tapas, as well as creative cocktails, and is also known for a festive atmosphere.
While walking around Blue Back Square last week I also observed work underway on Gran Gusto, which will be opening in the former Rizzuto's space.
Congratulations to Laura Whitney, who has been appointed chief financial officer at the Jewish Community Foundation of Greater Hartford. An accounting and financial investment expert with more than 35 years of experience, Whitney will lead the Foundation's three-person finance team. She succeeds Rhona Morgan who retired after 22 years of distinguished service. "Laura's expansive skill set will bolster the Jewish Community Foundation's administration of fiscal functions, and the financial and investment accounting for our overall operations," said Jacob Schreiber, president and CEO of the Jewish Community Foundation. "She will be a trusted leader in maintaining financial and investment policies established by our Board of Trustees." Whitney has held numerous financial leadership roles in Connecticut's nonprofit sector. Prior to her appointment at the Jewish Community Foundation, she served as vice president of Finance at the University of Hartford where she oversaw all finance operations, including treasury, budget, procurement, financial accounting, and controller. She also served as liaison to the University's Resources, Investment and Audit Committees of the Board of Regents. She previously served as controller and assistant treasurer at Albertus Magnus College. Whitney earned a Master's Degree in professional accounting from the University of Hartford, and a Bachelor's Degree in economics from Trinity College. She is a member of the Board of Trustees and chair of the Enrollment Committee at Rosemont College in Philadelphia.
YHB Investment Advisors, Inc. is excited to announce that Hilary Pohley has been promoted to portfolio manager. Since joining the YHB team in January 2021, Pohley has made herself an integral part of the portfolio management team. She has been instrumental in supporting the growth of the 401(k) segment of the business and has become adept at portfolio management and serving clients. She graduated with honors from Tufts University with a BS in international relations and German studies. She also earned an MBA from Northeastern University and has recently passed the Series 65 exam. YHB is thrilled with her success and looks forward to seeing Pohley's future contributions.
Remember, if you have any business news to share, add it in the comments section below or email Ronni Newton at [email protected].
Like what you see here? Click here to subscribe to We-Ha's newsletter so you'll always be in the know about what's happening in West Hartford! Click the blue button below to become a supporter of We-Ha.com and our efforts to continue producing quality journalism.