A round-up of openings, closings, and other news about West Hartford businesses. 
By Ronni Newton
Happy President's Day!
It's the last full week of February, and while I have no doubt that Mother Nature still has some wintery weather to throw our way, I enjoyed going out without a coat or gloves several days last week, and the late February sun feels so good when it's shining.
A President's Day note from Paine's: trash and recycling is on a regular schedule this week! West Hartford's Yard Waste & Recycling Center is also open (7 a.m.-3 p.m.), but Town Hall and other municipal buildings (libraries, senior centers) are closed on Monday.
West Hartford Public Schools are closed for winter break on Monday and Tuesday, and but for those looking for some local activities, Veterans Memorial Skating Rink has public skating sessions on both Monday, Feb. 20 (9:15 a.m.-5:30 p.m.) and Tuesday, Feb. 21 (9:15 a.m.-5 p.m.), and Westmoor Park and Cornerstone Aquatics Center are open as well.
I watched three entire college basketball games on Saturday – and enjoying the exciting wins by the UConn Men and Women, as well as my Duke Blue Devils who crushed Syracuse (sorry, 'Cuse fans) – but also got in a great run with a friend, and plenty of chores around the house. Sometimes wurst is best, and and Saturday night's casual meal that Ted and I enjoyed at Wurst Haus was a perfect ending to the day. (Please ignore my comment last week about healthier eating …)
I've linked to my story in the bullet points below, but also want to share here how excited I am about the opening of Kilwins last week – not just because they are an excellent addition to Blue Back Square and our local economy, but also because We-Ha.com has an ice cream named after it! I definitely recommend trying the We-Ha Mud – not just because of the name!
There were 32 positive reported cases of COVID-19 in West Hartford over the past seven days (as of Saturday), and a positivity rate of 12.2% – up very slightly from last week. The data doesn't take into account the home tests that don't get reported to the state either. Good news is that Fairfield and New London counties have dropped to "low" risk according to the CDC, and while Hartford and the other counties remain classified as "medium" risk (with mask-wearing recommended for those at high risk of getting very sick or those with household members or people they are regularly in contact with who are vulnerable), it's a good trend to see the risk level dropping in parts of the state. We are still in the season of respiratory viruses. (Click here for more information from the West Hartford-Bloomfield Health District about the symptoms of various viruses and how to protect yourself.) I still hope to be able to delete this paragraph that time has not yet come. In the meantime, please continue to have patience since not everyone has the same level of comfort, continue to look out for each other, support our local businesses – and stay safe and healthy.
If you're looking for news about West Hartford in print please note that many stories from We-Ha.com, as well as other local news, is published in the twice-monthly issues of the West Hartford Press.
If you have information to share about local businesses, please provide details in the comments or email Ronni Newton at [email protected].
**************************************************
Here's this week's Buzz:
When Sim Sohn took over ownership of Harry's Bishops Corner last summer he said he wasn't planning to change anything about the pizza. "My primary role is the curator of Harry's Pizza, and we haven't added or changed anything. That's my commitment to the community," Sohn said. But he also brings a business-oriented, customer-focused mindset learned through his decades-long management experience in the corporate world, and while he hasn't changed the pizza (with a small "p") at all, he has added a new element to the restaurant. "A lot of people come in and they want grinders," Sohn said. The farm-to-table pizza that was the trademark of the Harry's Bishops Corner menu developed by previous owners Kevin and Anne Plaut was always "a cut above," Sohn said, and that's what he has done with the grinder menu as well. "We want to do it right," he said, and his HBC is collaborating with another local HBC (Hartford Baking Company) for high quality rolls. They're not cutting corners on the other ingredients either. General Manager Derik Plaisted is a chef, Sohn said, and they've been asking people over the past few months what types of grinders they like, and he has used that feedback as a starting point to create a grinder menu that includes Mama's Meatballs, Brooklyn Italian Combo, Philly Steak and Cheese, Fenway Park Sausage, Smoked Turnkey Ranch, Chicken Milanese, and chicken and eggplant parm, as well as make-your-own options, all available in generous half- ($8.95) or full-sized ($14.95) portions. (I sampled the mouthwatering Philly Steak and Cheese – which is the grinder Sohn said is his favorite – and the half-size it was definitely more than enough food for me!) Sohn has also made some updates to the interior of Harry's Bishops Corner, with new wall decor and lighting and a waiting area for take-out. While waiting – or while enjoying lunch or dinner – you can also enjoy one of the local beers from the IPA-heavy menu Sohn has personally curated. Before adding the grinders, Sohn said he brought the leadership team together to consider the question: "Who do we want to be?" and the resulting mission is now posted on the wall with their logo: "Caring for our people; Consistently amazing food; Catering to our community; and Customer first." I asked about the gluten-free pizza, and Sohn said that is absolutely still a key part of the Harry's menu, made on dedicated equipment, and served with dedicated cutlery to prevent cross-contamination ensure it's safe for those with celiac disease. The former owners sold Harry's to focus on their business of manufacturing and distributing gluten-free pizza dough, and that's the dough he uses. When I asked about offering gluten-free grinders or some type of sandwiches, Sohn immediately said that he will consider how he can make that happen … maybe using the gluten-free dough in a panini press. He said he'll work on it.
I reported in a recent column that Perkatory, which has been resident in a small vendor space inside GastroPark since the summer of 2021 is branching out on its own. They will be opening on March 1 at their new standalone location at 625 New Park Ave., right next to G-Monkey, and will have a ribbon cutting with the West Hartford Chamber of Commerce on March. 6. GastroPark owner Tate Norden said he is excited that they have outgrown their space. "Empowering small business has always been one of our primary goals," he said previously. Stay tuned for news about a new coffee provider at GastroPark, too.
The restaurant 1001 Arabian Bites at 134 Park Road, which formerly featured Lebanese food, has rebranded and is now called 1001 Mexican Restaurant and Bar. When I stopped by Sunday afternoon to take an exterior photo I found it open, and had a chance to chat briefly with the general manager, Greg Morales. He took over the space about two weeks ago, and said he will be changing the interior decor and will also be opening up a great patio area once the weather warms up for good. New signs are on the way, too. The vibe will be "casual fine dining," he said. The food is all authentically, scratch-made Mexican, and created by head chef Juan Carlos, he said. "I have a history with craft cocktails," said Morales, who most recently worked at Ideal Tavern in Southington. He said the cocktail menu will change seasonally but will also retain a focus on Old-Fashioneds, Manhattans, and other classic drinks. 

The menu can be found below (you can also click here to view the website) features a la carte tacos as well as burritos, nachos, and full entrees. As for the adjacent hookah lounge, that is being transformed as well, and will be accessed only from the side entrance on Troy Street rather than by walking through the restaurant area. He will be bringing in acoustic music (no more DJs) Morales said, and trivia nights, and while it will remain a hookah lounge you will be able to bring take-out from the restaurant there and it will be more low-key. 1001 Mexican Restaurant is open Wednesday through Sunday, for brunch (noon-3 p.m.) and dinner. Happy hour is daily from 4:30-6:30 p.m. I will definitely stop by to sample the food and report back!
Spa Soli at 945 Farmington Avenue (the space with the salt cave) is being rebranded and will re-open soon as Ignite Med Spa & Wellness. I've reached out to the owner, who is an APRN, and will definitely provide any updates that I can obtain.
Congratulations to Skyline Mortgage owners Rauf Majidian and Johnson Oni on celebrating their grand opening last week. A ribbon cutting was held with town officials and the West Hartford Chamber of Commerce on Feb. 14. The business is now open at 846 Farmington Ave., Suite 10.
Toy Chest closed at the end of January with the retirement of long-time owner Marilyn Caruso. While the store was always family owned I knew there had been an affiliation with Learning Express Toys at some point, but didn't realize it was ongoing. After seeing a copy of a flyer looking for interest in the Toy Chest name, last week I spoke to Bruce Schneiderbauer, the franchise development manager for Learning Express Toys, who said the company is hoping to keep the Toy Chest legacy alive in West Hartford. According to Schneiderbauer, most of the 90 stores the company owns around the country have the Learning Express Toys name, with Toy Chest in West Hartford, one store in Tennessee, and another in Georgia as the only ones with different names. "West Hartford is a great location and a great demographic for us," he said, and said Learning Express Toys would love to work with a new business owner to bring the Toy Chest name back to West Hartford or another location nearby. Anyone with interest can contact him at 978-889-1006.
A reader reached out to me out of concern that Sam's Gyro (7 South Main Street) was closed, but I touched base with owner Sam Sarkisian who assured me that they are temporarily closed at lunchtime while new staff is being trained, but open daily from 5-10 p.m. Lunchtime hours will return as soon as possible.
We-Ha.com, along with West Hartford Magazine and the Southern New England Jewish Ledger, is media sponsor of the Rotary Club of West Hartford's Vines of March, on March 4, 2023 at Town Hall. We're giving away two tickets to the wine tasting event and auction, and you can enter to win by clicking here!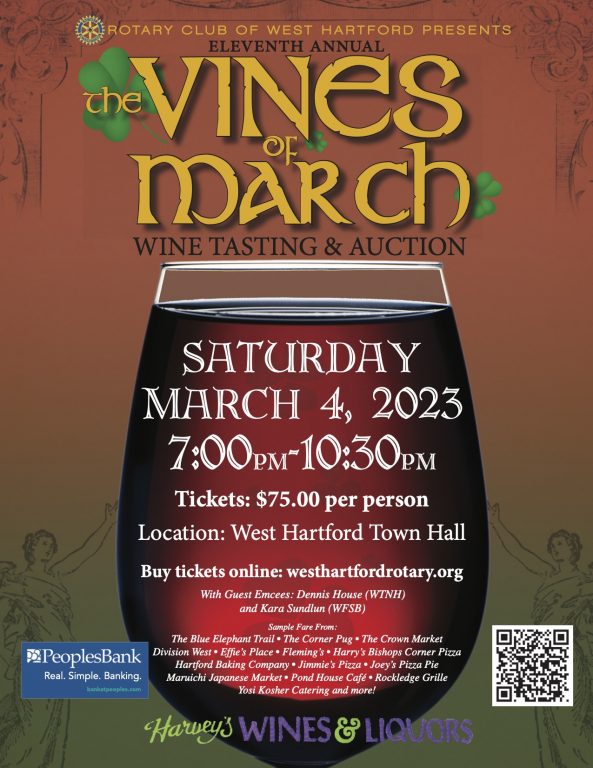 The Bridge Family Center welcomes Kim Ambroise, M.S., Ed.D, winner of this year's Build No Fences Award and interim principal at Braeburn Elementary School (and a West Hartford resident) as the newest member of its Board of Directors. Ambroise was previously an assistant principal at Hall High School and throughout her career she has been recognized for her work ethic, ability to create partnerships, commitment to equity and dedication to students. Ambroise is bilingual in English and Spanish and is a graduate of Eastern Connecticut State University where she received her bachelor's degree in Psychology. She received both her master's degree and her 6th Year Certificate from Central Connecticut State University. "The Bridge is very excited to welcome Kim to the Board. She recently received our Build No Fences Award at our annual Breakfast on the Bridge because her collaborative and compassionate spirit embraces our vision of 'Every Family. Every Child. Every Time.' Kim will be an asset to our organization as we strive to better meet the diverse needs of our community," said Margaret Hann, executive director of the Bridge Family Center.
Express

Strategies

, a local public relations consultancy founded a decade ago by West Hartford communication professional Bernard Kavaler, has produced its first two quick-read booklets in a new series providing insights for businesses, nonprofits and organizations. The latest booklet, published this month, is "7 Ways to Boost Your PR Profile." Kavaler shared the following in a news release: "Noting that 'how you approach achieving your objectives can make the difference between gaining traction and spinning your wheels,' the booklet includes time-tested suggestions, urging that organizations 'sprinkle numbers generously, without drowning a great story,' and 'offer a concrete set of facts and figures that reinforce the narrative and reassure the unconvinced.'" His first booklet in the series was called 6 Secret Benefits of Collaboration, and it "highlights how collaboration can be achieved within or across organizations, and the impact it can have on those organizations. Collaboration, for example, can lead to the 'spark of a new idea, a new direction or new concept revealed, or an innovative approach hammered out.'" The two booklets can be obtained free of charge, either as a PDF download or in hard copy, by contacting

[email protected]

. Additional booklets in the insight series are slated for publication later this year, Kavaler said.
Congratulations to West Hartford resident Josh Feldman, who has been named a partner in the Hartford-based matrimonial and criminal defense law firm known as Ruel Ruel Burns Feldman & Britt, LLC. Feldman practices exclusively in the area of family law, representing clients throughout Connecticut in matters involving divorce, custody, child support, alimony, property division, paternity actions, and modification of existing family court orders.
The Town of West Hartford's Economic Development team is interested in getting to know our businesses and nonprofit organizations better and is asking business owners/managers to complete a brief survey so they can gather important information about West Hartford's business and nonprofit community. "This information will allow staff to be more informed about your business, its needs and the current climate you are operating in with the goal of helping you grow your business here in town. Click Here to take this survey now! Any questions can be directed to Economic Development Coordinator Kristen Gorski at

[email protected]

gov or 860-960-6136.
ICYMI, Kilwins is now open in Blue Back Square. Details and photos can be found here.
GOLFTEC's owners hosted a hands-only CPR training class with the West Hartford Fire Department in celebration of one of their own being saved by quick action from our first responders. The complete story can be found here.
Lots of great new brands are coming to Westfarms, with several build-outs underway. Click here for all the details.
Remember, if you have any business news to share, add it in the comments section below or email Ronni Newton at [email protected].
Like what you see here? Click here to subscribe to We-Ha's newsletter so you'll always be in the know about what's happening in West Hartford! Click the blue button below to become a supporter of We-Ha.com and our efforts to continue producing quality journalism.