A round-up of openings, closings, and other news about West Hartford businesses. 
Business Buzz is sponsored by NBT Bank, and we are very thankful for their support!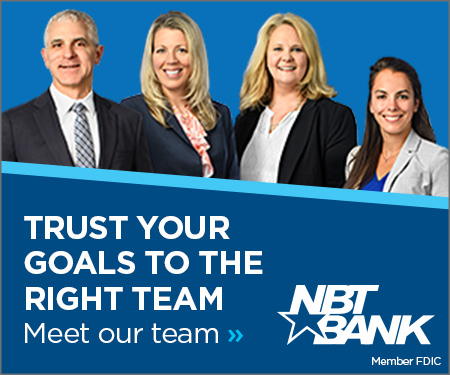 By Ronni Newton
I have been on quite the culinary journey this week, and other than when I've been traveling, I don't think I have ever sampled so much delicious food and eaten so many meals away from my house in such a short period of time.
I started last week's food fest on Monday having lunch with my friend Jeannette Dardenne at Sparrow, and while that was just for pleasure, the rest all had some work-related component. And while I try to eat healthy, that wasn't always achievable this past week. Coracora was already the subject of a full story, Americana will be a feature early this week, and Chopt is highlighted in one of the bullet points below, and my Saturday night meal (which was as good as any restaurant meal) was at St. James's Episcopal Church, where the choir performed the music of Billy Joel – served up alongside an Italian meal (and a bottle of red, bottle of white). On Thursday night I attended an amazing "Spring Harvest Dinner" at Artisan, and here are a just a few photos from this week's gastronomical journey …
I'm still catching up on a few articles related to the many events I attended last week (I actually did more than just eat) – which was probably one of the busiest work weeks I've had in years. The week also included a press conference with Lt. Gov. Susan Bysiewicz on Monday, launching Earth Week with a highlight of the town's soon-to-begin food scrap recycling pilot, a press conference with Gov. Ned Lamont and other officials celebrating Coracora's James Beard finalist status on Tuesday, the announcement of West Hartford's new superintendent of schools, and three ribbon cuttings.
I did have a quick visit with retired West Hartford Police Ofc. John Baker outside the department headquarters. He collects police department patches (has a world-class collection), and I love the "Newton" patch frame he made for me!
When I checked earlier this week there were still a handful of positive reported cases of COVID-19 in West Hartford and a very low positivity rate – but here's the moment I have been waiting for: Sunday's map doesn't show West Hartford data at all! A notation included with the map published by the state (data.ct.gov) states: "To protect confidentially, the data in towns with fewer than five (5) cases or five (5) positive NAAT tests in the past seven (7) days are suppressed." I'll still keep the tab open and check weekly, but this is definitely good news. When the state issued its weekly report on Thursday, it was also the first week I can recall in years where there were no COVID-related deaths at all in the state.
If you're looking for news about West Hartford in print please note that many stories from We-Ha.com, as well as other local news, is published in the twice-monthly issues of the West Hartford Press.
If you have information to share about local businesses, please provide details in the comments or email Ronni Newton at [email protected].
**************************************************
Here's this week's Buzz:
Last week I mentioned that I hoped to soon have confirmation of plans for a new tenant in the former SPoT Coffee location at 69 Memorial Road, and I am so excited to be able to share the news that The Bakery by The Place 2 Be will be opening in that space. Yes, it is a new concept by The Statement Group's The Place 2 Be, which was profiled last week by Forbes, and which has chosen West Hartford as the site for this new brand. "We're excited to grow our footprint in West Hartford and offer our new concept to the community," said Gina Luari, CEO and founder of The Statement Group. "We've always made our own challah bread, so building out from that and expanding the offerings in Blue Back Square – giving guests more options – is something we're looking forward to." The Bakery by The Place 2 Be will be right up the street from The Place 2 Be, and will provide diners with another choice, as an option for those who are looking for a breakfast and lunch spot offering a vibe that's chic, casual elegance – for those who might find TP2B a bit too "loud" for their taste – as well as for those looking to linger over a coffee and pastry. The Bakery by The Place 2 Be will offer sit-down café dining as well as an wide assortment of grab and go options, and an incredible baking program featuring not only the challah bread but other baked goods as well as sandwiches, soups, and salads. There will also be some subtle tie-ins to TP2B, Luari said. Plans are for an opening this fall – and I can't wait to share more details as the project progresses.
Chopt Creative Salad Co. had a ribbon cutting on Wednesday at the new location at 333 North Main Street in Bishops Corner just moments before opening to the public with a first-day "Chopt Gives" event. From 11:30 a.m. through 2 p.m. and again from 5 to 7:30 p.m., 100% of proceeds were donated to the location's chosen charity – Connecticut Foodshare. District Manager Cameron Khorassani said Chopt is really excited to be in West Hartford, which along with the recently-opened Glastonbury location gives them access to a whole new market. "This area is very denser and we're hopeful that we can serve everyone up here," he said, noting that if the existing locations are successful, they would like to expand further in the area. When asked what makes Chopt distinctive, Khorassani said, "With Chopt we're so focused on our quality, we pay so much attention to our food that we have a special product that no one can replicate." Chopt features a menu of classic and "light" salads, more than 20 dressing options (some are switched out seasonally, and some are also sold by the bottle), warm bowls, wraps, soups, and the opportunity to also customize salads with an extensive choice of greens, fruits and veggies, cheese and dairy, crunch, and other toppings. Most food sensitivities can be accommodated, and Chopt takes allergens very seriously, he said. Khorassani said his favorite menu item is the Chicken Tinga (choice of warm grain or cauliflower rice base drizzled with Mexican Goddess and topped with braised chicken ginger, avocado, black beans, tortilla chips, scallions cotija cheese, and marinated kale). "When I first joined the company eight. years ago, I ate that exclusively for about three years," he said. The warm bowls have been growing in popularity, he said. Representatives from Connecticut Foodshare were present at Wednesday's ribbon cutting, but Korassani said it's not a one-time commitment of support. "We've never chosen a partner that we don't believe in," he said. "We never stop working with our partners." Al Marino, director of Corporate and Community Giving for Connecticut Foodshare, said at the ribbon cutting that every dollar raised during the Chopt Gives event will provide for two meals for the hungry or food insecure.
I had an extensive conversation last week with Stephanie Blozy about her decision to sell Fleet Feet, and I'll share the full story as soon as I can connect with Fernanda Jacobs (currently the store's general manager) and her husband, Dave Jacobs, who as of May 1 will be the new owners of the business as Steph and her sister, Carrie, step back from the store to spend more time with their aging parents. As an avid runner, I was a customer of Fleet Feet even before Steph and Carrie decided to move to the area in 2008 to be closer to their parents, and I haven't bought a pair of running shoes anywhere else in the past 15-plus years. I've done several of Fleet Feet's race training programs and participated in countless community runs and other activities, and Fleet Feet has served as the informal hub for my own running group as it has for so many in the Hartford area. Steph said that Fernanda and Dave are energetic and passionate, and "together with their four kids, they will be great stewards of the store and our community," and they will continue to work together as she remains involved with events and charitable activities.
Props to West Hartford Rotary, which donated $13,000 worth of nonperishables to the West Hartford Food Pantry last week. Rotary members met at Costco on Tuesday morning to purchase the donated items, and then caravanned to Town Hall to drop everything off and help fill the shelves.
"The arrival of spring means sunshine, warmer weather and, of course, the annual Earth Day tomato plant and garden seed giveaways hosted by

PeoplesBank

at four of its banking centers," spokesperson Mary Cate Mannion said in an email. Mannion said PeoplesBank has been celebrating Earth Day with the giveaway for the past 10 years, and this is the second event in West Hartford, where they opened at 102 LaSalle Road in September 2021. "

PeoplesBank

is a leader in innovation, corporate responsibility, environmental sustainability, and employee engagement. Our three LEED- certified offices are environmentally friendly, and we have financed more than $350 million in wind, hydroelectric, and solar energy projects," she said. Regional Manager Roma Odedra and Center Manager Kris Lucke supervised the distribution of 150 tomato plant plus seed packets. I am now the proud owner of a Roma tomato plant, that I will endeavor not to kill – at least not until it's warm enough to plant it outside.
Congratulations to Greenwich Medical Spa which on Thursday celebrated their recent opening in Blue Back Square with a ribbon cutting with the West Hartford Chamber of Commerce, Mayor Shari Cantor, and other officials. On the grand opening day, Greenwich Medical Spa was donating 5% of all purchased services to the nonprofit organization Beauty Bridge Foundation. Greenwich Medical Spa purchased The Medspa last October.
West Hartford's River Bend Bookshop (161 Park Road) will be participating in Independent Bookstore Day, a national event held on Saturday, April 29. "It is our biggest party of the year, and we have some really fun things planned, said River Bend owner Meghan Hayden. River Bend Bookshop will have over 25 exclusive items for sale and as giveaways, from specialized tote bags, to banned books puzzles and enamel pins. There will be food, raffle prizes, games and activities. Hayden said that River Bend Bookshop will also be participating in the Libro.FM "Golden Ticket" promotion to give one winner 12 free audiobooks on Independent Bookstore Day.  One special ticket will be hidden in each of our locations and the person who finds the ticket will receive a year of free audiobooks. "Independent Bookstore Day is a day for bookstores to celebrate the incredible communities that sustain us," said Hayden. "It is our biggest party of the year, and a truly joyous day filled with great books and great readers." River Bend will also be participating in the Connecticut Bookstore Passport program, which is a madcap weekend with book lovers trying to visit 16 bookstores all over the state in just two days for a chance to win two grand prizes of a $50 gift card to EACH of the 16 stores ($800 total value).
West Hartford resident Christine Baumgart has recently launched Honeysuckle Lactation. "I am a lactation consultant, previously working in the hospital setting, and have just launched my own lactation consultation business called Honeysuckle Lactation in town. Right now I will be focusing on in-home consultations and clients can book with insurance benefits (if eligible) or as self-pay," she said in an email. A former Spanish teacher in Manhattan, Baumgart said before she had children she "knew little of the lactation world. But troubleshooting my own breastfeeding obstacles led me to learn more and more about the breastfeeding dyad and the amazing science behind the process. One thing led to another and before I even realized it, I was back in school to become a Board Certified Lactation Consultant (IBCLC)." She has now worked with a wide variety of clients, "from premature babies in the NICU to full term, healthy babies reluctant to wean, and everything in between," and you can find out more information on her website, by calling 860-245-1407 or emailing

[email protected]

.
Halfway is halfway done with their renovation of the now-former Wurst Haus space, with the new sign in place and plans coming along for the April 27 opening. More details about the plans can be found in last week's column.
Good Cause Gifts (967 Farmington Avenue in West Hartford Center) will be holding a fundraiser for Aiken School on Thursday, April 27. Details can be found on the flyer below.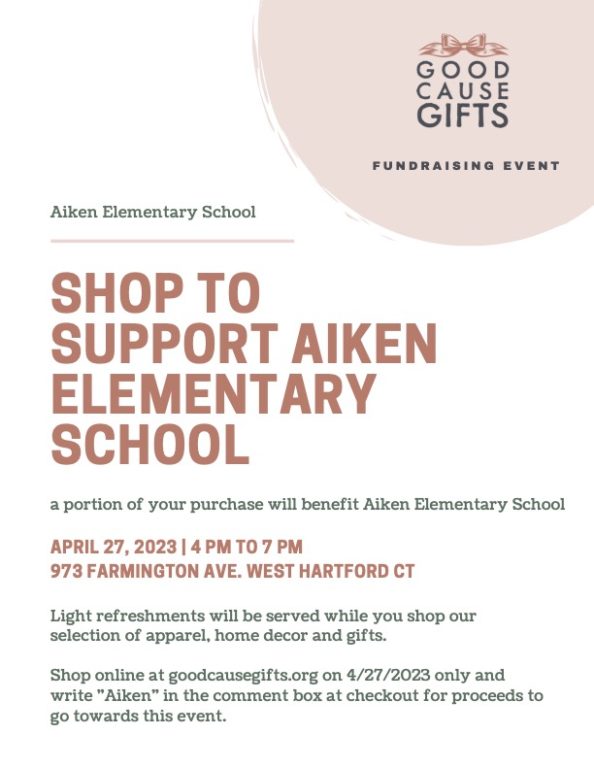 Just before the pandemic, in February 2020, the Town Council approved multiple upgrades to the Corbin's Corner Shopping Center, including a 2,500 square foot addition at the rear of Trader Joe's. I haven't confirmed it with management yet, but I understand that the plans are finally moving forward.
"After months of studying and preparation, Max Eichner recently sat for and passed the Series 65. By passing the exam, he will become a Registered Representative for YHB and has been promoted to Senior Portfolio Analyst. Max is an integral part of the YHB team, playing a large role in many day-to-day operations, and providing support to portfolio managers," a spokesperson for YHB said.
Outside of West Hartford but good news for coffee lovers flying in and out of Bradley Airport: Starbucks is "coming soon" according to a photo sent to me by a very excited reader. I definitely consider myself a caffeine addicts and find this very welcome news indeed!
I gave up on shopping at Bed Bath & Beyond once the store near Westfarms closed, but now that my daughter is having a baby I've been visiting buybuy Baby (which is part of the same company as Bed Bath & Beyond) at the Corbin Collection. Sadly, the company has filed for Chapter 11 bankruptcy and plans to wind down operations at the stores. According to the buybuy Baby website, the store will remain open for now. The following information was shared about the plans for remaining retail stores: "We expect to process returns and exchanges in accordance with our usual policies until May 24, 2023, for items purchased prior to April 23, 2023; We expect Gift Cards, Gift Certificates, and Loyalty Certificates will be accepted through May 8, 2023; We will no longer accept coupons or Welcome Rewards+ discounts beginning April 26, 2023."
ICYMI, plans are moving along and renderings have been revealed for West Hartford's first development in the newly-created Transit-Oriented Development District. Complete details regarding the 150-unit mixed-use project can be found here.
It's not in West Hartford, but I sometimes expand the coverage area for nonprofit or social enterprise business news, and the opening of Fire by Forge in Hartford this week certainly falls into that category. The full story can be found here.
Nominations are due this week for the Chamber of Commerce Noah Webster Award, the Elizabeth Gustin Basil Women's Leadership Award, and other spotlight awards. Click here for details.
The Town Council has approved plans for an eighth building at 243 Steele Road. The full story can be found here.
The governor, DECD commissioner, mayor, Peruvian consul general, and others celebrated Coracora being named a James Beard finalist for Outstanding Restaurant. Story and photos can be found here.
Remember, if you have any business news to share, add it in the comments section below or email Ronni Newton at [email protected].
Like what you see here? Click here to subscribe to We-Ha's newsletter so you'll always be in the know about what's happening in West Hartford! Click the blue button below to become a supporter of We-Ha.com and our efforts to continue producing quality journalism.