NEW YORK — With another tick higher Wednesday, Wall Street added to its big rally for the year following profit reports from a spate of banks and other big U.S. companies.
The S&P 500 rose 10.74, or 0.2%, to 4,565.72. After its seventh gain in the last eight days, it's now up nearly 19% for the year so far and at its highest level in more than 15 months.
The Dow Jones Industrial Average gained 109.28 points, or 0.3%, to 35,061.21, and the Nasdaq composite edged up by 4.38, or less than 0.1%, to 14,358.02.
The earnings reporting season is in its second week.
Elevance Health helped lead the market after it climbed 4.4%. The insurance provider reported stronger profit and revenue for the spring than analysts expected, while raising its full-year earnings forecast.
Easing pressure from the bond market also boosted stocks after a report showed U.K. inflation cooled by more than expected.
The yield on the 10-year Treasury slipped to 3.74% from 3.79% late Tuesday.
The U.K. data follows U.S. reports that raised hope inflation is moderating enough to convince the Federal Reserve to halt its hikes to interest rates soon. High rates helped cause the failures of several U.S. banks.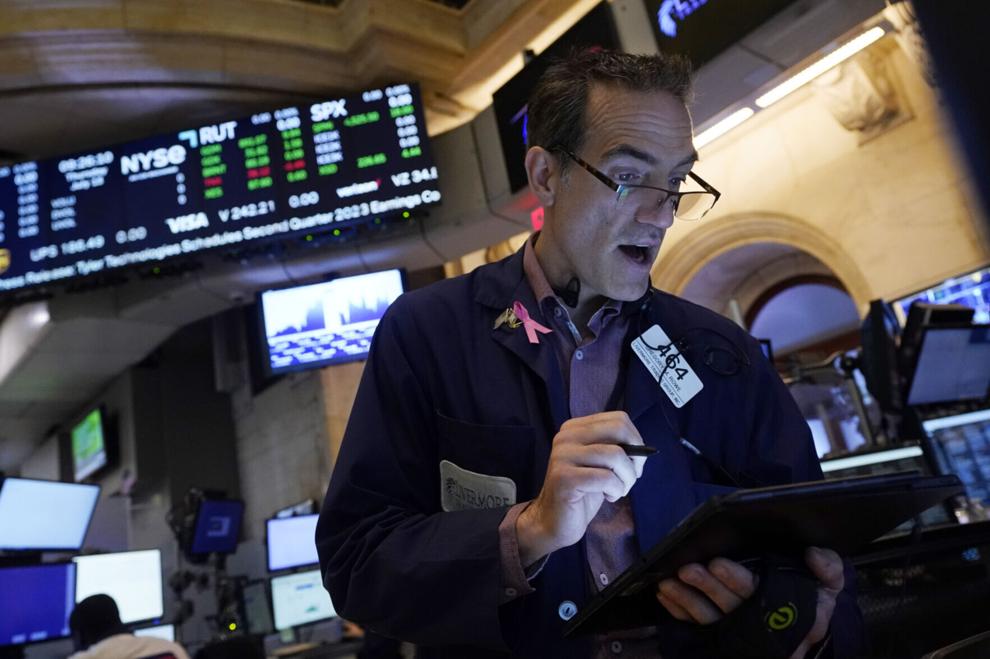 Other banks are reporting their results for the spring.
Western Alliance Bancorp bounced from an early loss to a gain of 7.8% after reporting weaker profit than analysts expected. It also said customers added $3.5 billion in deposits from April through June.
U.S. Bancorp rose 6.5% after reporting weaker profit than expected but slightly stronger revenue. It said its deposits grew 3.2% from earlier this year.
M&T Bank gained 2.5% after reporting stronger profit than expected and higher deposits.
Investment bank Goldman Sachs added 1% after it fell short of profit expectations for the latest quarter but topped revenue forecasts.
Used-car dealer Carvana soared 40.2% after it agreed with its creditors to reduce its debt by more than $1.2 billion and reported a milder than expected net loss for the latest quarter.
Trucking company J.B. Hunt Transport Services reported a drop in earnings per share for the latest quarter that was worse than analysts expected, but its stock rose 3.8%.
The marketing and communications company Omnicom Group  fell 10.4% after falling short of analysts' expectations for revenue growth.
In the commodities market, wheat prices surged after Russia launched attacks on critical port infrastructure in Ukraine, destroying 60,000 tons of grain. The price of soft red winter wheat, traded in Chicago, rose 8.5%.
Abroad, the FTSE 100 in London jumped 1.8%. Stocks were mixed elsewhere in Europe and across Asia. Hong Kong's Hang Seng fell 0.3%.