New York
CNN
 — 

Fox News continues to be exposed like never before.
In legal filings made public Tuesday as part of Dominion Voting Systems' $1.6 billion defamation lawsuit against the right-wing channel, a trove of private text messages, emails, and deposition transcripts offered a new look at how the sausage is made behind the scenes at the channel — and it is ugly.
The filings expose the face of the network, Tucker Carlson, as a fraud. They show that Rupert Murdoch rejected conspiracy theories about Dominion, despite allowing them to be promoted on his network. And they show the contempt that hosts like Sean Hannity have for some of their colleagues who tried to tell the truth about what actually transpired in the 2020 election.
A version of this article first appeared in the "Reliable Sources" newsletter. Sign up for the daily digest chronicling the evolving media landscape here.
The legal filings total hundreds and hundreds of pages. Journalists will unquestionably be sifting through them for days and weeks to come. But here are some immediate takeaways:
► Carlson "passionately" hates Trump: In a number of private text messages, Carlson was harshly critical of Trump. In one November 2020 exchange, Carlson said Trump's decision to snub Joe Biden's inauguration was "so destructive." Carlson added that Trump's post-election behavior was "disgusting" and that he was "trying to look away." In another text message conversation, two days before the January 6 attack, Carlson said, "We are very, very close to being able to ignore Trump most nights. I truly can't wait." Carlson added of Trump, "I hate him passionately." The Fox host said of the Trump presidency, "That's the last four years. We're all pretending we've got a lot to show for it, because admitting what a disaster it's been is too tough to digest. But come on. There isn't really an upside to Trump."
► Murdoch rejected conspiracies: In his January deposition, Murdoch was repeatedly asked about various electronic voting conspiracy theories — and he rejected all of them. "You've never believed that Dominion was involved in an effort to delegitimize and destroy votes for Donald Trump, correct?" a Dominion lawyer asked at one point. "I'm open to persuasion; but, no, I've never seen it," Murdoch replied.
► Top hosts probably " went too far": In an email to Fox News chief executive Suzanne Scott, Murdoch conceded that some of his top hosts probably crossed the line in the aftermath of the 2020 election. "Maybe Sean [Hannity] and Laura [Ingraham] went too far," Murdoch wrote Scott, in an apparent reference to election denialism after Trump's loss.
► Fury at Fox News' decision desk: Murdoch lashed out in an email on November 7, 2020, over an imminent decision by Fox News to project that Biden would become the next president. "CNN declares and FOX coming in minutes," Murdoch wrote to former New York Post editor-in-chief Col Allan. "I hate our Decision Desk people! And pollsters! Some of the same people I think. Just for the hell of it still praying for Az to prove them wrong!," he said in reference to Biden's victory over Trump.
► Murdoch wanted to "help" his friend Jared Kushner: In his deposition, Murdoch was asked why he divulged confidential campaign ad information to Kushner. "I was trying to help Mr. Kushner," Murdoch said. "he's a friend of mine."
► Hannity, Carlson, and Ingraham discussed their power: In a group text message, the Fox News prime time bloc, concerned about losing viewers and upset about the direction the network was going, talked about flexing their muscle. "I think the three of us have enormous power," Ingraham texted, adding that they have "more power than we know or exercise." She continued, "we should think about how together we can force a change." Hannity said he had to hop on calls but urged Ingraham to "keep thinking." Carlson said that "the first thing" they needed to do is "exactly what we want to do." Carlson added in another message to the group, "We are all officially working for an organization that hates us."
► Hannity and Doocy mocked Fox's journalists: In a series of November 2020 text messages, Hannity and Steve Doocy attacked the reporting from their colleagues on the so-called "straight news" side of the network. "'News' destroyed us," Hannity complained. "Every day," Doocy replied. "You don't piss off the base," Hannity said. "They don't care. They are JOURNALISTS," Doocy texted back. Hannity said he has "warned" people at the network "for years" and there is "NOTHING we can do to fix it."
► Bartiromo refused to call Biden President-elect: In text messages to Steve Bannon, after the election had been called for Biden, Bartiromo said she had instructed her staff to not refer to the Democrat as President-elect. "I want to see massive fraud exposed … I told my team we are not allowed to say pres elect at [all]. Not in scripts or in banners on air. Until this moves through the courts," Bartiromo wrote, saying she is "scared & sad." Bannon said she is a "fighter" and that the movement needed her. "Ok," Bartiromo replied.
► Fox D.C. chief decried "existential crisis" at network: More than a month after the 2020 election, then-Fox News DC Managing Editor Bill Sammon decried the network's coverage of false election claims in private messages to a colleague, fearing it had become an "existential crisis" for the right-wing channel. "It's remarkable how weak ratings makes good journalists do bad things," Sammon wrote then-political editor Chris Stirewalt. Stirewalt replied, "It's a real mess."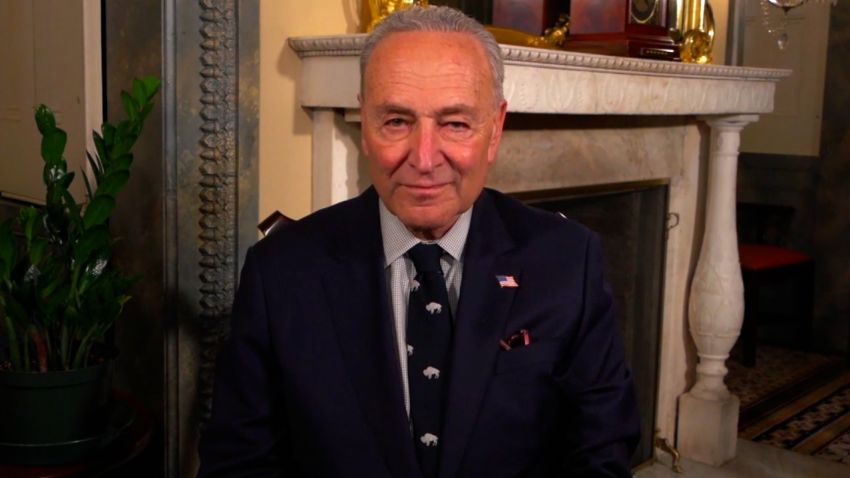 Top Democrats sent a scathing letter to Fox. Hear from one of them