February spotlights Black local businesses at Tops
Former nurse Jill Miller was researching a natural cure for her infant daughter's eczema when she created Skin Care Essentials by Jill in 2019. The same year, her product was on Tops shelves, and she now runs the business full time.
"It's surreal," she said.
Golden Cup Coffee, a roastery on Jefferson Avenue, is getting its start at Tops with 10 stores. And Sadie's Relish – created by AM Buffalo co-host Mercedes Wilson when trying to duplicate her grandmother's "cha-cha sauce" – is in 66 Tops locations.
All three are getting an added push this month, as the subjects of a Black History Month advertising blitz by Tops Markets. It nets the Black-owned, local businesses exposure and valuable advertising spend – a helpful boost to smaller companies that often lack resources and are underrepresented in the marketplace.
Each company's back story is featured on signs in stores near where their products are sold. Products featured are also featured in Tops' e-commerce platform, on its website and social media channels, and in weekly press releases sent to the media.
Miller said she has noticed sales picking up since the campaign started, and believes she has new customers who might not have found her without the extra attention from the campaign.
"I'm certain it's helping," she said.
The visibility is huge, because when people find her, it often turns into sales. Before Tops, she was often the top-selling vendor at vendor shows, and her website would sell out just as soon as she could stock new inventory.
"There's such a huge need, I would sell out like crazy," she said. "I'm at the phase where I'm still reaching out and letting people know there's a quality product out there."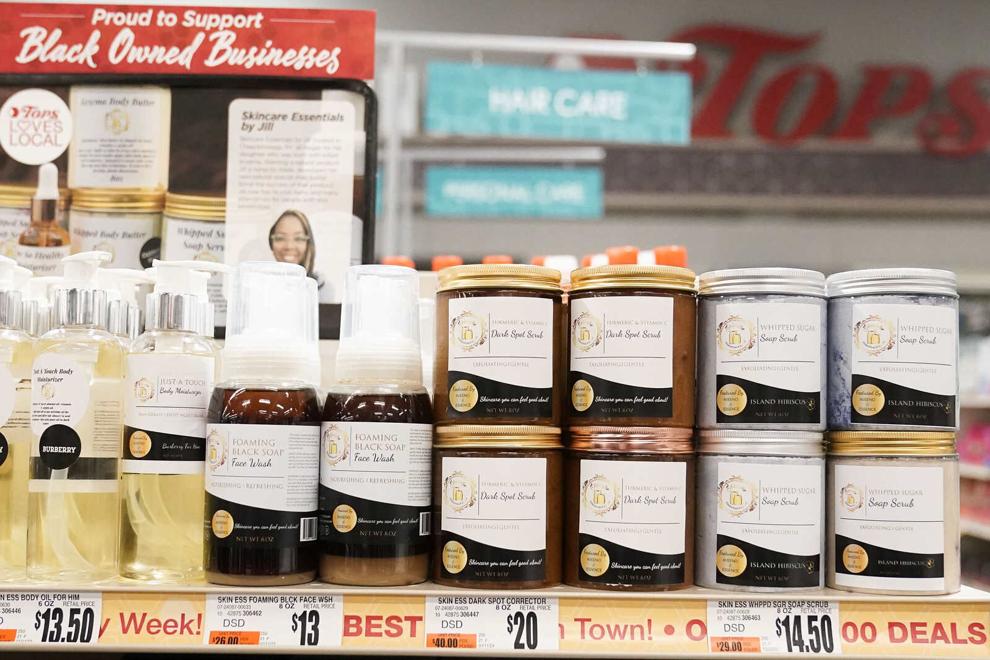 Black History Month campaigns are "absolutely" helpful for Black-owned companies, bringing increased visibility and brand awareness, according to Charles Lindsey, a marketing professor at the University at Buffalo School of Management.
"Ultimately, this can translate into additional revenue and profit," he said.
The added push is especially helpful for small businesses that lack the deep pockets of bigger corporations. Top-selling skincare brand Neutrogena, for example, spent $165 million on advertising last year, according to a report from FiercePharma.com. That's tough competition from someone like Miller, working from her kitchen table. This is where leverage from a grocery chain with more than 150 locations really comes in handy.
"Free advertising and PR are even more important for firms that have fewer resources," Lindsey said.
Though Golden Cup and Skin Care Essentials by Jill are new and in a limited number of stores, Sadie's Relish is in 66 locations, and in some Price Chopper stores, as well.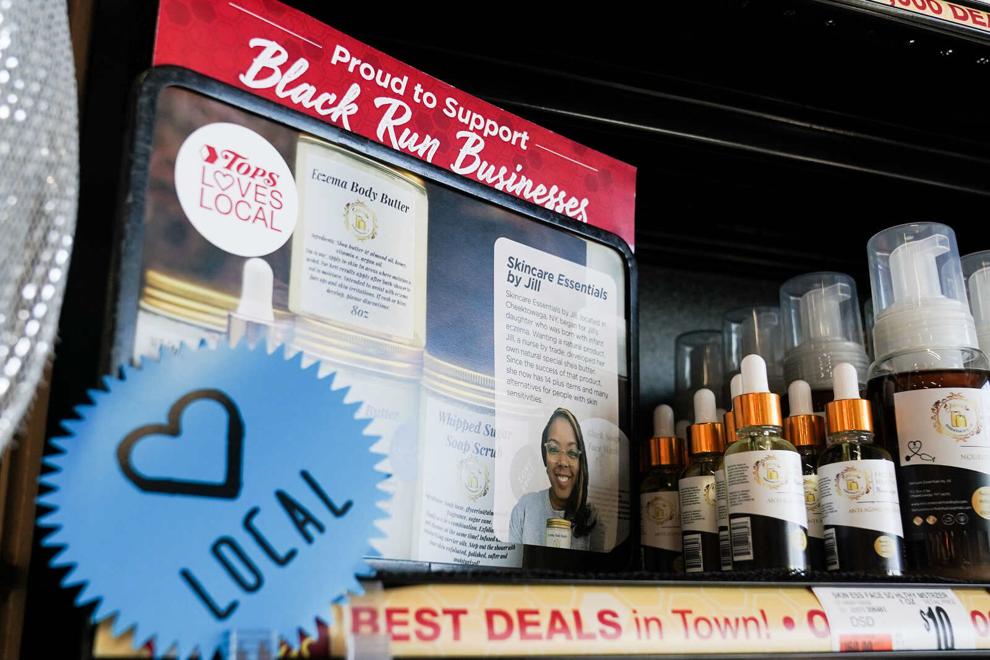 The most effective campaigns draw a parallel between a company's values and the larger social or cultural topic they're referencing, such as Black achievement.
"There should be an authentic connection," he said.
Welcome to Buffalo Next. This newsletter from The Buffalo News will bring you the latest coverage on the changing Buffalo Niagara economy – from real estate to health care to startups. Read more at BuffaloNext.com.
Pace Strength and Conditioning set for Barcalo Buffalo Living & Commerce
Pace Strength and Conditioning, a fitness center will be the latest tenant at the Barcalo Buffalo Living & Commerce mixed-use building under construction at 225 Louisiana St.
Pace is a "run and strength" studio, according to owner and founder Kathleen Granchelli. It will offer classes focused on running, strength training and personal training from beginner to expert levels.
Granchelli is a certified personal trainer and run coach, and formed the BFLO Run Club five years ago – a free club with runners at all levels from the Buffalo area.
It joins Frequentem Brewing Co., the second location for the Canandaigua-based brewery. Barcalo is a $38 million Frizlen Group project.
Fashion Outlets adds electric vehicle chargers
The Fashion Outlets of Niagara Falls USA has added "ultra-fast" electric vehicle charging stations it says can fully charge compatible cars in as little as 20 minutes.
It is a partnership with public charging network Electrify America, which has more than 330 chargers at properties owned by Fashion Outlets owner Macerich, headquartered in California.
THE LATEST
Catch up on the latest news from the Buffalo Niagara economy:
The union that organized workers at hundreds of Starbucks stores is trying to organize workers at the Tesla plant in South Buffalo.
An Ellicottville brewery and distillery is planning a big expansion.
Athenex is conducting a reverse stock split to avoid having its shares delisted from the Nasdaq.
Erie County is seeking a developer for the historic Wendt Mansion.
The Erie County health commissioner addressed the need for more – and better – services for mental health patients.
Medaille University has cut eight jobs as enrollment dips.
Office vacancies are rising across the Buffalo Niagara region – and especially downtown.
Niacet is planning to expand its Niagara Falls factory.
Six weeks after the December blizzard, some stores damaged by looters still haven't reopened.
Life Storage received an $11 billion hostile takeover bid from the nation's biggest self-storage firm, Public Storage.
ICYMI
Five reads from Buffalo Next:
1. Inside Brooks-TLC's seven-year push for a new hospital: Now, more than ever, it feels like Brooks-TLC Hospital System's plan for a new hospital in Fredonia is at a critical juncture. Could the long-delayed plan finally be moving forward?
2. Mechatronics, the new, in-demand tech field fueled by ECC and Northland Training Center: Despite ECC's struggles with declining enrollment, its mechatronics program is thriving. The program is in its fourth year, and this spring will reach over 200 graduates.
3. A different type of developer: How an East Buffalo laundromat project is an example of a new type of development that could help transform neighborhoods, one building at a time.
4. The Buffalo Sabres are in the thick of a playoff chase for the first time in a decade and fans are slowly starting to return to the KeyBank Center, where attendance is way up from last year, but empty seats remain plentiful.
5. The cannabis industry is starting to establish itself in Western New York, but companies in that sector have to be careful about actually using the word cannabis, because it is still illegal on the federal level.
The Buffalo Next team gives you the big picture on the region's economic revitalization. Email tips to [email protected] or reach Buffalo Next  Editor David Robinson at 716-849-4435.
Was this email forwarded to you? Sign up to get the latest in your inbox five days a week.