Business Intelligence Tools are software that accumulates, transform, and present the data to assist the decision-makers and drive business growth. The Business Intelligence Tools absorb large amounts of structured and unstructured data from various sources, convert it, and help in reaching to actionable business insights from the data. These tools have important features such as visual analytics, data visualization, KPI scorecards, and interactive dashboarding. They also enable users to make use of predictive analytics and automated reporting features based on self-service. The benefits of using business intelligence tools are
They help you in bringing all the relevant data together.
The self-service approach unlocks access to data for the employees and gives the company a competitive advantage.
Predictive analytics can help the users to discover new trends and patterns.
Manual tasks are eliminated.
Business cost is reduced.
These tools are accessible 24×7.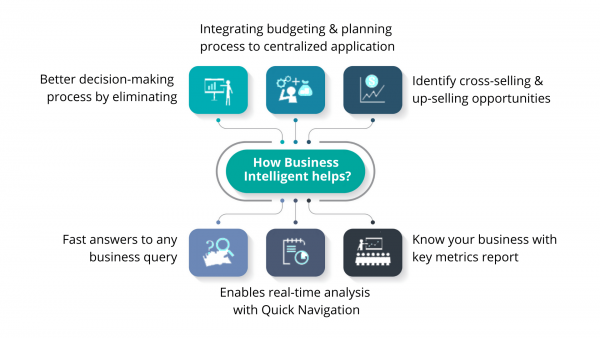 These benefits are both for small companies and large enterprises. Business intelligence is the way where you can control your data and know what is going on in your company. To help you in moving ahead, we have a list of business intelligence tools that will not only ensure the management of your data and make discovery easy to use, but also to stay secured and giving a higher level of productivity.
The Best Business Intelligence Tools for 2020
1. Domo – Domo is a cloud-based business intelligence platform that merges the sources of data and prepares data for analysis. It also provides insights, enables collaboration, and give predictive analytics. The drag and drop integration and transformation feature of Domo produce real-time visualizations. It does not require any technical expertise and allows access to the web and mobile devices.
2. MicroStrategy – MicroStrategy is a business intelligence and analytics platform which offers a self-service data discovery process. You don't need technical expertise to gather data from all the sources. Third-party charts are leveraged to build advanced metrics and expand the analysis as needed.
3. Microsoft Power BI – Microsoft Power BI specializes in business analytics and is a web-based business intelligence platform. It is a collection of three products and each one of them transforms and analyses data, in the cloud and on-premises. Power BI provides real-time analytics by connecting to your data sources.
4. SAP BI – This Business Intelligence suite is designed for comprehensive analysis, reporting, and data visualization. They offer office integrations with PowerPoint and Excel where you can create hybrid analytics and live presentations that connect to their cloud and on-premise SAP systems.
5. Oracle BI – It is a Business Intelligence reporting and analytics platform and offers the users with a sequence of integrated tools for ad-hoc analysis and query, scorecard and dashboard creation, mobile analytics, enterprise reporting, predictive analysis, and multidimensional OLAP.
6. Sisense – It is an end-to-end business intelligence platform and its approach towards processing analytics helps in providing exploration of data and fast analysis. This BI platform gathers and unifies data from your sources and manages data integration, collection, and visualization. It does not require any specialized user training.
7. IBM Cognos Analytics – It is a cloud-based analytics and business intelligence platform whose web-based tools are available on-premise or in the cloud. It can import data from a wide variety of sources and the built-in AI recommendations help in creating visualizations, interactive dashboards, and reports.
8. Dundas BI – It is a browser-based, end-to-end business intelligence platform that provides a self-service approach to create interactive visuals and personalized reports. It adapts to the user skills and provides drag and drop tools for real-time scrutiny of data. It provides solutions for enterprises of all sizes in diverse industries.
9. Clear Analytics – It is a business intelligence analytics platform that is designed for Microsoft Excel. It imports the data into excel after collecting it from other sources. By using a dynamic query builder, it adds the features of excel and provides direct access to the data. It also provides a solution to enterprises in distinct industries using Microsoft Excel Software.
10. Qlik Sense – Qlik Sense is an analytics and Business Intelligence platform and its proprietary engine associates data from various sources into a single dataset. It requires minimal expertise in using Qlik Sense's interactive click-and-go interface for common tasks and the experienced coders can use python to work out the complex use cases.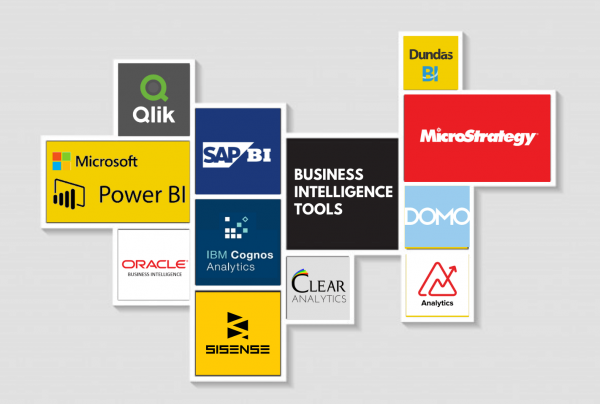 Final Thoughts and Guidance
Business Intelligence is a vast term in itself and elaborates on the meaning itself by enhancing business performance intelligently and skillfully. The platforms of business intelligence are subject to change as per the needs of business and constantly changing technology but these are the best way to achieve targets of the business. Choosing the best BI tool for your business is not easy and takes due diligence. The best BI tool fits into the expertise level of users and delivers the insights in actionable formats.
Whichever tool you choose, they will lead you to better market decision making by the insights delivered by the BI tools.
About SynergyTop
SynergyTop's on-platform and cloud-based tools allow the customers to normalize, clean, and transform their data while also keeping in mind the best practices and security concerns. Contact SynergyTop to find out the best BI solution for you.