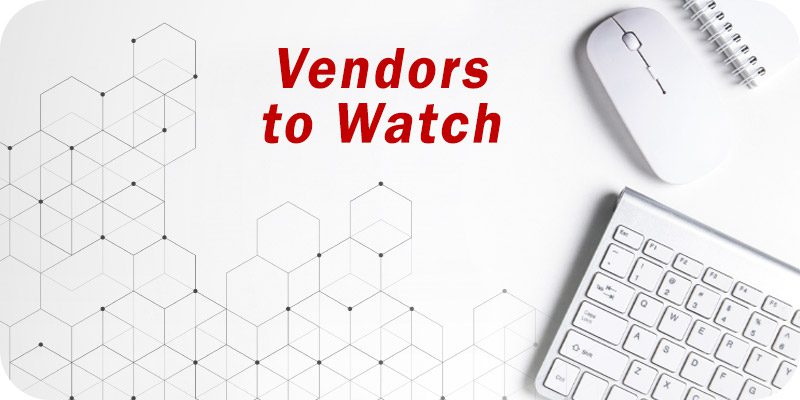 Solutions Review's Data Analytics and BI Vendors to Watch is an annual listing of solution providers we believe are worth monitoring. Companies are commonly included if they demonstrate a product roadmap aligning with our meta-analysis of the marketplace. Other criteria include recent and significant funding, talent acquisition, a disruptive or innovative new technology or product, or inclusion in a major analyst publication.
Data analytics and BI software is increasingly being influenced by emergent technologies. AI and machine learning functionality once reserved for the most complex advanced analytics solutions is now pervasive. Augmentation and automation are becoming mainstream alongside citizen scientist personas in enterprise settings. The BI and analytics marketplace is mature and crowded with excellent software tools for a variety of use cases, verticals, deployment methods, and budgets.
These data analytics and BI Vendors to Watch have met at least two of our five points of inclusion and represent to some degree the evolution of the marketplace. It's in that spirit we turn our attention to the immediate future. Providers are listed in alphabetical order. Provider names and logos are linked so you can learn more.
Arbutus Software
Arbutus Software offers automated data analytics solutions for desktop users and teams. The product enables you to develop complex, custom analytics using scripts, workflows or menu-driven functionality, as well as integrate with executables in R, Python, and DOS, enabling the development of efficient, unified analytics. Key use cases include audit, fraud, risk, compliance, and enterprise
ConverSight
ConverSight offers a real-time, voice-activated reporting platform for dashboards, alerts, monitoring, and other automated tasks. The product lets users have a "direct dialogue with their data" through self-creating dashboards that provide answers to complex questions. ConverSight is low-code and touts more than 100 different integrations to popular productivity tools
DataRails
DataRails is a financial planning and analysis platform for Excel users. It automates data consolidation, reporting, and planning, and can be integrated with the most popular accounting software, ERPs, and CRMs. Use intuitive workflows for version control and collaboration across the company, improve data integrity and visibility with comprehensive records and audit trail, and house the latest version of your data in one place.
Lightdash
Lightdash turns dbt projects into a full-stack business intelligence platform by letting analysts write metrics while the tool enables self-service for teams. In Lightdash you manage everything as code, bringing productivity and governance to your BI tool. Different versions include a free, self-hosted option, Lightdash Cloud, and a dedicated enterprise option for large organizations.
MotherDuck
MotherDuck is set to offer a serverless data analytics platform. Its recent venture capital round came from Andreessen Horowitz, Redpoint, Madrona, Amplify, and Altimeter. MotherDuck is also joining forces with the DuckDB team to combine the elegance and speed of DuckDB with the collaboration and scalability of the cloud. One of their motos is, "Your laptop is faster than your data warehouse, so why wait for the cloud?"
Observable
Observable provides a data visualization platform for developers, data scientists, journalists, and educators. The company was co-founded by Mike Bostock, D3.js creator, and Melody Meckfessel, former VP of Engineering at Google. Observable helps teams make better business decisions using data. One key innovation to the platform is Observable Plot, which is a simple but expressive charting tool that allows teams to put together analytics dashboards that anyone can edit.
Redbird
Redbird.io offers an analytics operating system for teams. It enables users to develop custom applications that automate advanced analytics work Redbird touts connectors to a variety of data sources, advanced transformation and wrangler operations, and text analytics and data science. Flexible building blocks can be configured to handle a wide array of use cases
Toric
Toric offers data preparation, data blending, and analytics in a single workspace. The product enables you to build data experiences that are always up to date and leverage logic blocks across projects with components and automation. It touts more than 100 different tools for prep, cleanup, transform, and data augmentation. Toric includes more than 20 data connectors as well.
Voltron Data
Voltron Data is attempting to develop open-source standards for data and offers an enterprise subscription to Apache Arrow. Voltron enables users to privately report and track issues through a customer portal, acquire third-party components, and take advantage of security bulletins to help foster the creation of hotfixes. In fact, Voltron backports bug fixes into the latest major release of Arrow and ships you hotfixed stable builds.
Vyasa
Vyasa offers what it calls a "novel" AI-powered platform for organizations to integrate and analyze content across data landscapes. The product's data fabric architecture (called Layar) touts a notable approach to deep learning to create intelligence that allows users to uncover hidden insights. Key use cases for Vyasa include healthcare, life science, higher education, and government.

Latest posts by Timothy King
(see all)