The primary role of an insurance broker is that of a middle-person. They act as intermediaries between the buyers and the insurance companies, with the goal of assisting individuals and businesses in finding the policies that cater to their unique needs. These industry professionals can work independently or as part of an insurance brokerage firm.
As they are not bound to a single insurer, insurance brokers can offer customers more coverage options compared to agents who work directly for insurance carriers. This also gives them the freedom to place policies with different providers depending on the market conditions, allowing them to access the best possible protection for their clients.
Knowing that you played a key role in helping clients achieve financial protection is what makes being an insurance broker fulfilling, so it is not surprising that many are considering on taking this career path. But to be successful, one needs to have a thorough understanding of how the insurance industry works.
Here are the steps to follow for those who want to pursue a career as an insurance broker:
1. Meet basic eligibility requirements
Just like in any profession, there are minimum requirements that a person must meet if they are planning to become an insurance broker. These may vary depending on the region, but in the US, aspiring brokers typically must:
Be at least 18-years old (the minimum age to apply for a license in most states)

Be able to successfully complete a background check

Be free of any fraud or felony charges

Not owe any federal or state income taxes

Not have past-due child support
2. Earn a degree
While a college degree is not a requirement for obtaining an insurance broker license, it can help build a solid foundation for the career. Although not that common, there are colleges and universities that offer insurance and risk management courses.
Studies focused on financial services, economics, business administration, marketing, accounting, and business law can also provide useful insights into the insurance industry. Communications, psychology, and sociology courses can likewise contribute to establishing a successful insurance broker career.
3. Get the necessary training
Internships with insurance companies can provide valuable learning and experience for aspiring insurance brokers. These can give students the chance to observe first-hand how an insurance company operates. High-performing interns may also have job opportunities waiting for them within the firm.
4. Meet licensure requirements
In the US, each state has their own licensing requirements that insurance brokers must meet. These often involve specialized coursework and passing an examination, including the Series 6 or Series 7 test that the Financial Industry Regulation Authority (FIRA) offers. For those planning to work across different states, they may have to meet the requirements of each to obtain a license. The same goes if they want to sell products for different "lines of authority." These insurance lines include:
Accident and health (A&H), which includes critical illness, private health, and disability insurance

Life insurance

Property and casualty (P&C), which includes auto, home, liability, pet, workers' compensation, and commercial insurance

Travel insurance, which has both A&H and P&C components
5. Obtain a broker bond
Most states in the US require insurance brokers to secure a broker bond before they are allowed to sell policies, according to the national industry association Independent Insurance Agents & Brokers of America (IIABA). Broker bonds are a type of surety bond aimed at holding brokers accountable for their actions. It also helps protect the public from potential fraud. 
6. Pursue continuous education
Most states require continuing education courses for insurance brokers to maintain their licenses. They may also consider obtaining additional certification in a line they have developed expertise for to further their professional development and job prospects.
The National Alliance for Insurance Education and Research (NAIER) offers several voluntary certifications, including those for counseling, customer service, risk management, and financial planning. These, however, require experience, coursework, and exams. Follow their Twitter to see what they're up to:
In case you missed it! The 2023 Course Schedule is now available!

View now: https://t.co/liulUFsljf pic.twitter.com/zRuTvx9BUU


— National Alliance Ed (@NatlAllianceEd) November 21, 2022
What does an insurance broker do?
As a representative of the consumers, brokers are responsible for helping insurance buyers evaluate their risks and match them with the right policies based on their risk profiles and financial resources.
Some states in the US impose fiduciary duties on these professionals, meaning they are legally required to act only in the best interest of their clients. They are likewise expected to guide consumers through the entire insurance-buying process.
Customers may encounter three types of insurance brokers on their way to finding the right policies. These are:
Retail insurance brokers: Working closest with the insurance buyers, these client-facing professionals assist clients in finding the best possible coverage, often dealing with less complex policies that cover common risks.

Wholesale insurance brokers: These brokers offer more specialized products and rarely have direct contact with insurance buyers. Instead, retail brokers go to them for policies that cover more complex risks.

Surplus lines insurance brokers: These professionals hold special licenses that allow them to access products for highly complex risks that standard insurers are not willing to cover. They can act as either retail or wholesale brokers and offer products from surplus lines specialists, also referred to as non-admitted insurers.
Apart from insurance products, some insurance brokers provide risk management services. These include advising customers on how to control risks that may not be covered under their policies.
Despite acting primarily as a representative of the insurance buyers, brokers still owe insurers certain responsibilities. These include ensuring that the information they disclose to the underwriters during the application process is factual and truthful and that policyholders pay premiums on time. A number of insurance companies also give insurance brokers the power to quote, bind coverages, and handle claims on their behalf.
Here is a summary of the duties and responsibilities of an insurance broker.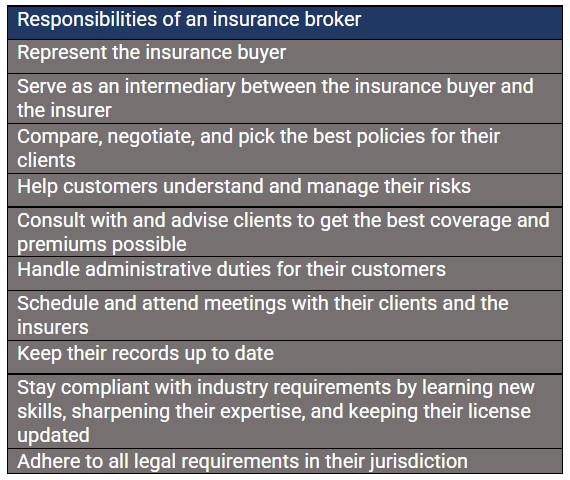 Figures, vary, depending on the country.
An insurance broker in the US earns about $76,000 to $107,000 annually, according to the employee compensation data platform Salary.com. 

In Canada, the salary range is from CA$35,000 to CA$63,000 (Payscale.com).

UK wages start at £18,000 for entry-level professionals and can exceed £100,000 for senior brokers (Prospects.ac.uk).

In Australia, yearly salaries for insurance brokers are between AU$70,000 and AU$90,000 (Seek.com.au).
While many insurance brokers, especially those working in brokerages, receive regular salaries, they also generate income in two ways:
Commissions: For each completed transaction, insurance companies pay brokers a commission, which is a percentage of the policy's total annual premiums. Depending on state regulations, the commission amount ranges between 2% and 8% of the premiums. 

Broker fees: Some insurance brokers offer consultative and advisory services to clients. These services come with a corresponding fee, which are often state regulated.
Although often confused with each other, there is a huge distinction between an insurance agent and an insurance broker. Unlike brokers who are not obligated to sell policies for specific insurance companies, agents are contracted to distribute the products of their partner insurers.
There are two types of insurance agents:
Captive agents: Work exclusively with an insurance provider.
Independent agents: Represent several insurance companies.
Similar to independent brokers, insurance agents act as an intermediary between customers and the insurer. But because agents represent insurance companies, the coverage options they provide buyers are limited to those offered by their partner carriers. Typically, agents also have contracts with insurance providers, detailing what policies they are allowed to sell and the amount they can expect to make from selling these policies.
Another key difference is that because of their links to the insurers, agents have the power to bind coverage, something that most insurance brokers cannot do.
Are you planning on pursuing a career as an insurance broker? Did you find this article insightful? Share your thoughts in the comments section below.