Her family wanted her to follow in her father's footsteps and be a bureaucrat. After marriage, she had the option to join the enterprises run by her husband's family. But Anooja Bashir was not ready for either. She wanted to tread her own path in the vast and unfamiliar terrain of entrepreneurship.
It was not at all that easy. Two of her initial ventures failed, pushing her to mounting debts. But she was not ready to give up, and her perseverance paid off with a third venture – a tech startup – which looks promising.
Hailing from Kochi and a civil engineer by profession, Anooja is the CEO and chief marketing officer of FlexiCloud which she co-founded with Vinod Chacko, a former colleague and hardcore techie.
Based in Kakkanad, Kochi, FlexiCloud is a shared innovative hosting solution platform that helps startups, small and medium-sized enterprises (SMEs), and server message blocks (SMBs). The company ensures that end-users have access to guaranteed backups, 99 per cent uptime and server security. Its client base consists of digital businesses, especially those in e-commerce and high-traffic businesses.
Launched in 2020, FlexiCloud, which won the Kerala Startup Mission's Scale-up Grant among a host of recognitions, claims to have 1,500 paid subscribers now. The company finds its revenue from subscriptions. The company offers solutions in different plans according to the requirements of its diverse client base.
Customers can avail themselves of managed cloud hosting solutions with a flexible choice of servers and location. FlexiCloud follows the platform as a service (PAAS) model.
"Hosting is a cluttered space. There are many small players. What makes us different is the way we created our product as per market requirements," Anooja, who devises the company's strategies, said.
Anooja evolved as a serial entrepreneur and marketing strategist over the years which taught her the good and bad lessons of doing business. Before, FlexiCloud, there was Ourea, which Anooja expanded into a mar-tech company along with Vinod who was its director and COO.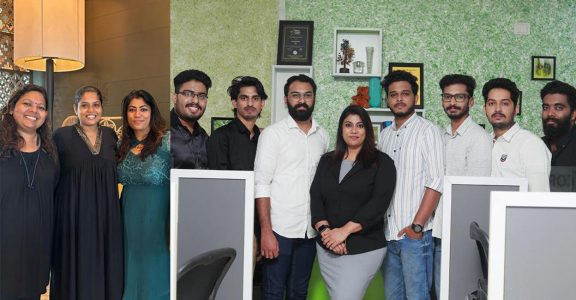 Eventually, the duo co-founded FlexiCloud as the expertise of Vinod as a cloud consultant made them realise the relevance of managed cloud hosting as there were a lot of pain points to be addressed.
FlexiCloud is built on the fact that it is highly important for digital businesses to have a hosting partner who manages their server and hosting concerns.
"While hosting normal services, websites and applications go through issues like slow loading, downtime issues, cyber attacks and security issues. Sometimes it is even difficult to retrieve the data and content of the website once hacked. Moving to cloud space helps digital businesses to an extent but for startups, SMEs and SMBs, they cannot afford to have an in-house team to manage the cloud servers. Resorting to experts in the cloud space again is a costly affair for SMBs, SMEs and startups. Our platform helps them," Anooja said.
The company's clients are spread across 20 countries while it is trying to penetrate deeper into the global market.
Anooja's identity, meanwhile, is not limited to a business leader. She is a diversity evangelist, startup mentor and LinkedIn influencer.
"I believe that empathy is very important in life, especially in business. I try to create opportunities for women, the LGBT+ community, and individuals with disabilities," she said, explaining why she wears many hats. Her endeavour, NEED, is focused on promoting diversity and providing opportunities through networking events, mentoring and training sessions.
(Startup Saturday is Onmanorama's weekend series featuring promising startups from Kerala. Find the previous stories here)