Arkansas insurance agent Brant Barnes died in a Jan. 6 plane crash in Washington County.
Barnes, 43-years old of Tontitown, was the lone occupant in the Beech, M35, fixed wing, single engine aircraft when it crashed off of N. Smokey Bear Road (WC 162), southeast of Fayetteville, the Washington County Sheriff's Office said in a Facebook post.
Barnes owned a Shelter Insurance agency in downtown Fayetteville.
In addition to his work as an insurance agent, Barnes owned several Papa John's locations and was President of the Northwest Arkansas Real Estate Investors Association.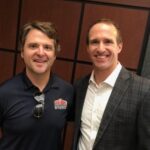 Barnes attended Mountain Home High School and then joined the University of Central Arkansas football team as a long snapper. Barnes transferred to the University of Arkansas, where he graduated from the Sam M. Walton College of Business in 2001.
Barnes opened a Shelter Insurance agency in Mississippi in 2002 and over the next two decades grew the agency into one of the most successful in the region.
According to Barnes' LinkedIn, the Fayetteville office consisting of Juan Nino-Rueda, Deanna Petree, and himself, has won several team awards over the years and were selected as the top Agency in the country in 2008.
Barnes spoke about his insurance career on the I Am Northwest Arkansas podcast in May 2021.
Barnes' father owned an insurance agency in Mountain Home. Barnes grew up around the industry.
After college, Barnes said he knew he wanted to own businesses and have the freedom to fly to work.
On LinkedIn, Barnes wrote about his love of aviation, sharing a photo of a Cirrus SR22 with the caption, "One simple dream was to fly to work! I picked up aviation thru my dad and it has always been a passion of mine! Wife said, get the one that has a parachute. The sky is an amazing place to get away from it all."
Barnes shared pieces of wisdom on the I Am Northwest Arkansas podcast, named Brantisms.
"Where we learn is on the edge of comfort!"
Topics
Agencies
Arkansas
Interested in Agencies?
Get automatic alerts for this topic.