Domo launched Domo AI, a suite of generative AI tools including integrations with ChatGPT and other large language models to help customers manage and deploy artificial intelligence models and improve decisions.
Among other features, the portfolio also includes the general availability of Domo's AI Service Layer, unveiled in preview in May, natural language processing (NLP) capabilities, a set of AI software development kits (SDKs) and AI model management capabilities.
The vendor — based in American Fork, Utah — introduced Domo AI on Aug. 29 during its Innovation Summit, a virtual event for Domo customers.
Domo is one of many analytics vendors to unveil generative AI capabilities — a lengthy list that includes Qlik, Tableau, MicroStrategy and ThoughtSpot. In addition, tech giants AWS, Google and Microsoft all have generative AI plans for their respective BI platforms QuickSight, Looker and Power BI.
Domo, however, is now one of the first to move any generative AI capabilities out of the preview stage and make them generally available.
Beyond just making its AI Service Layer and certain other tools within Domo AI available to all customers, the suite amounts to an extensive cache of generative AI capabilities, noted David Menninger, an analyst at Ventana Research.
While some vendors have introduced just integrations with large language models (LLMs) or unveiled one or two features, Domo.AI is made up of a wide range of tools.
"Domo has taken a comprehensive approach to generative AI, ranging from conversational capabilities to integration with third party services such as OpenAI and Google Bard to model management for combining external models with Domo models," Menninger said.
Before joining the generative AI fray, Domo had a tumultuous start to 2023. Founder and longtime CEO Josh James left the company in 2022 and former chief strategy officer John Mellor was appointed CEO. But after a year of slow growth, Mellor stepped down just before Domopalooza, the vendor's March user conference, and James returned to his former role on March 8.
Shortly after, during Domopalooza, the vendor launched a set of 10 new capabilities, with target audiences ranging from data consumers with no coding skills to hardcore developers and data experts.
New capabilities
Generative AI has been the dominant trend in analytics ever since the November 2022 launch of ChatGPT by OpenAI. While LLMs existed before ChatGPT — including OpenAI's GPT-3, ChatGPT's predecessor — the ChatGPT release represented a significant improvement in LLM capabilities.
For the first time, due to the breadth of ChatGPT's vocabulary, it was possible to use freeform natural language to ask questions and generate code.
Suddenly, the barriers that, for decades, made analytics the domain of experts — with only about one quarter of employees within most organizations possessing the required skills — were reduced and perhaps even eliminated.
The possibility of widespread analytics use could become a reality with generative AI, according to Wayne Eckerson, founder and principal consultant of Eckerson Group.
"LLMs hold out the possibility of changing the user interface of BI," he said. "Rather than learn a tool, users can simply interact with an LLM. The BI tool recedes into the background and BI becomes conversational. That's good news for the [majority] of users who only view reports and dashboards. Perhaps they will do more with BI if they don't have to use a tool."
As a result of generative AI's potential, almost all data management and analytics product development news in 2023 has focused on generative AI.
However, almost all the features introduced by vendors remain in testing or preview, with only a small number generally available. Dremio and Monte Carlo are among data management vendors that have made text-to-code capabilities generally available. Neo4j, meanwhile, recently launched vector search and storage capabilities, which aren't generative AI features on their own but do fuel and improve generative AI models given their accuracy.
Now Domo is among the vendors to move generative AI tools beyond the preview stage and into production.
At the core of Domo AI is the AI Service Layer, an AI framework that currently offers an integration with OpenAI so that developers can build generative AI applications and develop language models that include their own data. Integrations with Google Bard and other LLMs are in the works, according to Domo.
One of the key elements of the Service Layer is its room for growth, according Eckerson. While it initially provides an integration with OpenAI, it's capable of integration with both existing AI models as well as those not yet developed.
Domo has taken a comprehensive approach to generative AI, ranging from conversational capabilities to integration with third party services such as OpenAI and Google Bard to model management for combining external models with Domo models.


David MenningerAnalyst, Ventana Research

"Domo is thinking for the long haul," Eckerson said. "Its services layer integrates with any type of AI model, including LLMs, either internal or external, providing plug-and-play integration with Domo applications and functionality. Domo is building infrastructure, not just flashy LLM features. This bodes well for its customers."
Beyond the AI Service Layer, text-to-code translation that enables natural language interaction and model management features are important tools within Domo AI, according to Menninger.
The text-to-code translation capabilities enable customers to use conversational language to query data that automatically gets converted to code so that Domo can understand the query and then convert it back to natural language so users can understand the response.
Access to Domo's AI Model Management tool, meanwhile, helps users integrate generative AI models with their existing machine learning infrastructure; train and deploy Domo-hosted models using Jupyter Workspaces and AutoML; and easily integrate with OpenAI, Hugging Face and other generative AI platforms.
"The features that may have the most immediate value or be most noticeable to end users are the conversational capabilities and the data preparation assistance," Menninger said. "However, the model management features may be the most valuable for Domo's clients as [they] will enable the use of customized generative AI models in a well-governed environment."
Beyond the AI Service Layer, NLP and model management, generally available tools within Domo AI include the following:
SDKs within domo.js — the vendor's library for building applications — that enable users to access Domo AI while developing applications with Domo Bricks, Domo Apps and Domo App Studio.
Batch inference and data preparation capabilities, so customers can efficiently process large volumes of data for use in generative AI models.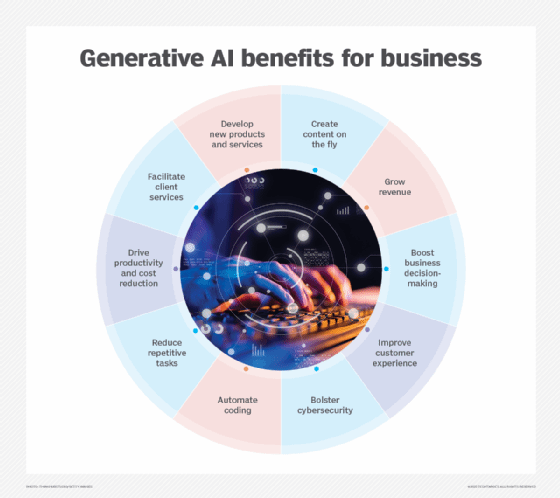 Next steps
With Domo being one of the first vendors to move more than just one or two generative AI capabilities beyond the preview stage, the next hurdle for the vendor — and any vendor adding generative AI capabilities — is getting customers to trust generative AI outputs.
Generative AI models trained on public data such ChatGPT have been prone to "hallucinations," which are misleading or incorrect responses.
In addition, there have been data security problems with LLMs that could lead to data breaches if proper data governance and security measures aren't in place when organizations integrates their data with an LLM.
Domo, therefore, would be wise to update Domo AI with data lineage and explainability capabilities, according to Menninger.
"The next hurdle for Domo.AI might be around explainability and lineage in the generative AI models," he said. "In order to be able to trust and rely on generative AI, users need to be able to understand the sources of the recommendations and conclusions."
Eric Avidon is a senior news writer for TechTarget Editorial and a journalist with more than 25 years of experience. He covers analytics and data management.