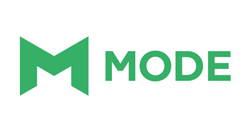 "We become analysts to do impactful, strategic analysis—for that trajectory-changing aha moment buried somewhere in our well-prepped datasets" said Benn Stancil, Co-founder and Chief Analytics Officer, Mode Analytics. "That's what draws us to this profession; it's the most valuable work that we do."

SAN FRANCISCO (PRWEB)
October 06, 2022
Mode Analytics, the modern Business Intelligence (BI) platform for scaling businesses, today announced its participation in Coalesce by dbt Labs. Billed as the analytics engineering conference built by data people, for data people, Coalesce will take place October 17-21, 2022 with live and remote options to accommodate attendees in all timezones.
As an Ecosystem Sponsor, Mode executives will speak in person at Coalesce New Orleans in two separate sessions:


On Tuesday, October 18, from 4:00-4:30 pm CDT, Mode VP Marketing Emily Ritter will lead a session entitled "'But my number says this'…. and other horror stories." This session will be simulcast on Coalesce Online for remote attendees. "Building consistent, trustworthy data sets may start with analysts, but to make it work, we have to bring others to the table," explained Ritter. "I'll share a business person's take on how rethinking BI will help get trusted data to every corner of your organization – and eliminate those 'my number says this…' conversations."

On Wednesday, October 19 from 10:00-10:30 am CDT, Mode co-founder and Chief Analytics Officer Benn Stancil will present "Money, Python and the Holy Grail: Designing Operational Data Models." Operational data models are a natural extension of the semantic models built by analytics engineers and, according to Benn, are often more valuable than any dashboard, dataset or deep dive analysis. In his talk, Benn will share what operational models are, why they are valuable, and why, in our eternal quest to quantify the value of analysts, they could prove to be the holy grail we've been looking for. This session will also be simulcast on Coalesce Online for remote attendees.
In addition to these events, Mode will host an exclusive "Ask Me Anything" reception with Benn Stancil, an accomplished data analyst with deep expertise in collaborative Business Intelligence and Interactive Data Science. Stancil is a frequent author and has contributed to advancing thought leadership around the field of data analytics. His work has been published on well-respected industry publications such as Forbes, Towards Data Science, KDNuggets, and on Substack where he has amassed a large following. In addition to speaking at Coalesce, Stancil has presented at Data Science Salon, the Modern Stack Conference, Future Data, and other prominent industry conferences. In the past year, he has catalyzed an industry-wide discussion around the need for a metrics layer as a foundational element of the modern data stack.
"Most analysts don't become analysts to do data pulls, clean up messy data, or put together pitch decks," said Stancil. "We become analysts to do impactful, strategic analysis. That's what draws us to this profession; it's the most valuable work that we do; and it's why we put up with the rest of our job—for that afternoon with nothing but a big question, a clear calendar, and a trajectory-changing aha moment buried somewhere in our well-prepped datasets."
Please visit Mode at Coalesce booth #204. For additional information, please visit: https://modeatcoalesce2022.splashthat.com/.
About Mode Analytics Mode's advanced analytics platform is designed by data experts for data experts. It allows data scientists and analysts to visualize, analyze, and share data using a powerful end-to-end workflow that covers everything from early data exploration stages to presentation-ready shareable products. Unlike traditional business intelligence tools that produce static dashboards and reports, Mode brings the best of BI and data science together in a single platform, empowering everyone at your organization to use data to make high quality, high velocity decisions. Mode also supports the analytics community with free learning resources such as SQL School, open source SQL queries, and free tools for anyone analyzing public data. To start a free trial or learn more, visit https://www.mode.com.
###
Share article on social media or email: