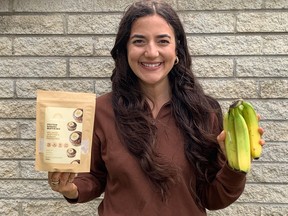 Article content
Leamington native Domenique Mastronardi's idea to 'upcycle' unwanted fruits and vegetables that might otherwise end up in landfills has earned her business, The Happy Era, a $30,000 grant from FedDev Ontario's Idea Fund.
Article content
Mastronardi's business, which produces high-protein, low-sugar baking mixes, was one of 20 recipients to split $600,000.
"This funding is going to take us from being a farmers' market business to a national company," Mastronardi said. "The program also provides a lot of mentorship and business support services I'd have to pay for."
The Idea Fund aims to support businesses from an inclusion, diversity, equity and green economy perspective. Her grant will allow Mastronardi to scale up and buy the materials needed to meet demand along with meeting the compliances and paperwork required to operate nationally.
Mastronardi is also partnering with Toronto's George Brown College to help try out new ingredients, research different textures and moisture levels and experiment to find the best proteins to expand her product line.
Article content
"I grew up having a fruit stand," said Mastronardi, who recently added a master's degree in applied science with a focus on food and sustainability to her University of Guelph undergraduate degree in bioengineering.
"I wanted to be a fruit stand lady when I grew up. With this business, I combine my passions for nutrition and research."
Having grown up in one of Leamington's most successful greenhouse families, the 24-year-old Mastronardi has long had an entrepreneurial spirit and been exposed to innovative ideas.
The seeds for her business (thehappyera.com) were planted in the third year of her bioengineering program when students were challenged to create a sustainability and innovation project.
"I came up with up with waffles using the carrot pulp left over from a juice-making business," Mastronardi said.
Article content
"I felt I'd discovered a niche in the market for healthy, high-protein snacks because I had a hard time finding those types of foods to snack on as a student, ones that didn't upset my stomach."
While the taste of a healthy product is what is essential to consumers, using materials that were destined to be tossed away helps reduce waste.
About 50 per cent of agricultural products go to waste
Mastronardi has focused on making dry mixes because of the transportation costs involved with shipping frozen foods. She sources her dry ingredients, composed of dehydrated fruits and vegetables, from Outcast Foods and a barley protein powder made from the spent grains of a brewer.
"About 50 per cent of agricultural products go to waste," Mastronardi said.
"It's not used because it might be bruised or doesn't meet the standard for grocers, but it's still perfectly good food. Based on our current research and development, we think it'll be realistic to divert one fruit per bag of muffin mix."
Article content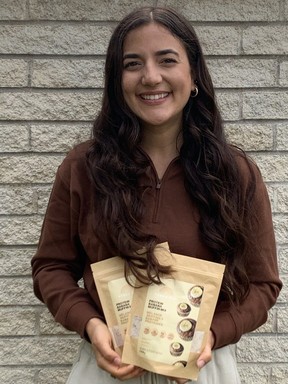 Mastronardi's kitchen has been her test lab as she tinkered with different formulas and sourced natural ingredients.
After entering her project in the university's science fair, Mastronardi's waffles proved such a hit she was encouraged to get involved with the school's business incubator.
The waffles were soon joined by mixes for banana muffins and pancakes.
"I started selling them at the Guelph's farmers' market," said Mastronardi, who has added an employee. "We use the off-hours at a Guelph bakery to make everything."
The business has expanded beyond local markets with an online presence and placement in 15 retailers mostly in the Greater Toronto and Guelph areas.
"Most of our business is online and just in Ontario," Mastronardi said. "We're planning to start to ship nationally in a year.
Article content
"We're also hoping to have some retailers carrying our products in Essex County in a month."
Farm to Food program reduces wasted produce to help feed needy across province

Local farm wins conservation award for keeping soil healthy
WETech Alliance's director of venture services Adam Castle said there were 400 applicants this round to the Idea Fund from across southern Ontario. Sixty of the proposals were assessed, with an initial screening reducing the candidates to 30.
"There was no theme required, but there were a number of applications with an agri-food focus in our section," Castle said.
"The spirit of the program is to close the loop on waste in North America. It's a circular economy we're trying to tap into."
Five local companies eventually earned grants of $30,000 each.
Other regional winners were:
Agricultural packaging/automation firm Ag-Tronic Systems Inc.; grocery/butcher/bakery outlet Alborz Fine Food; AI-powered employment platform designer Picsume; and LED neon sign manufacturer Osmosis Glow.
Twitter.com/winstarwaddell