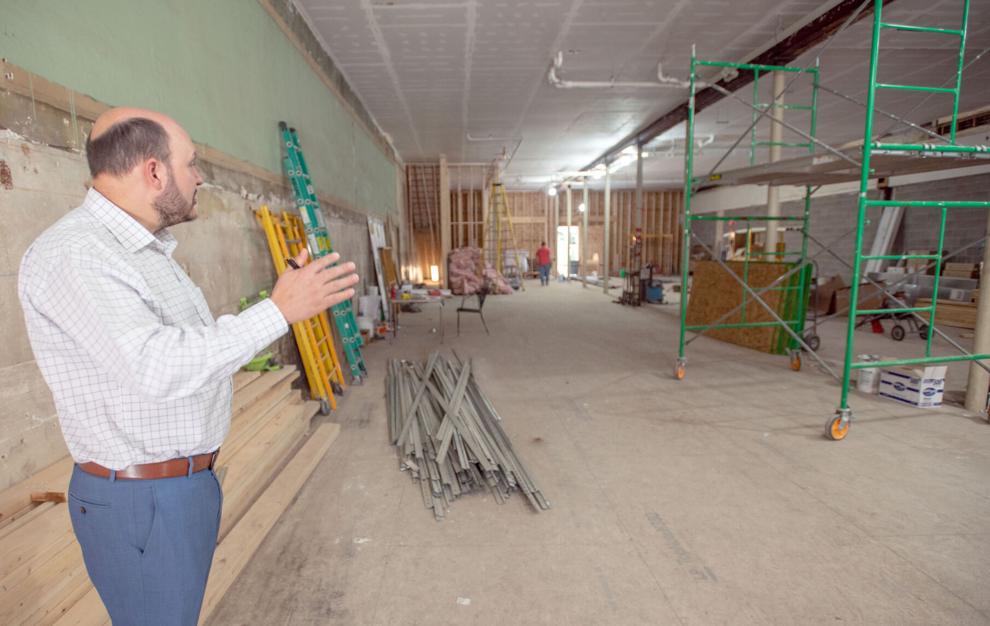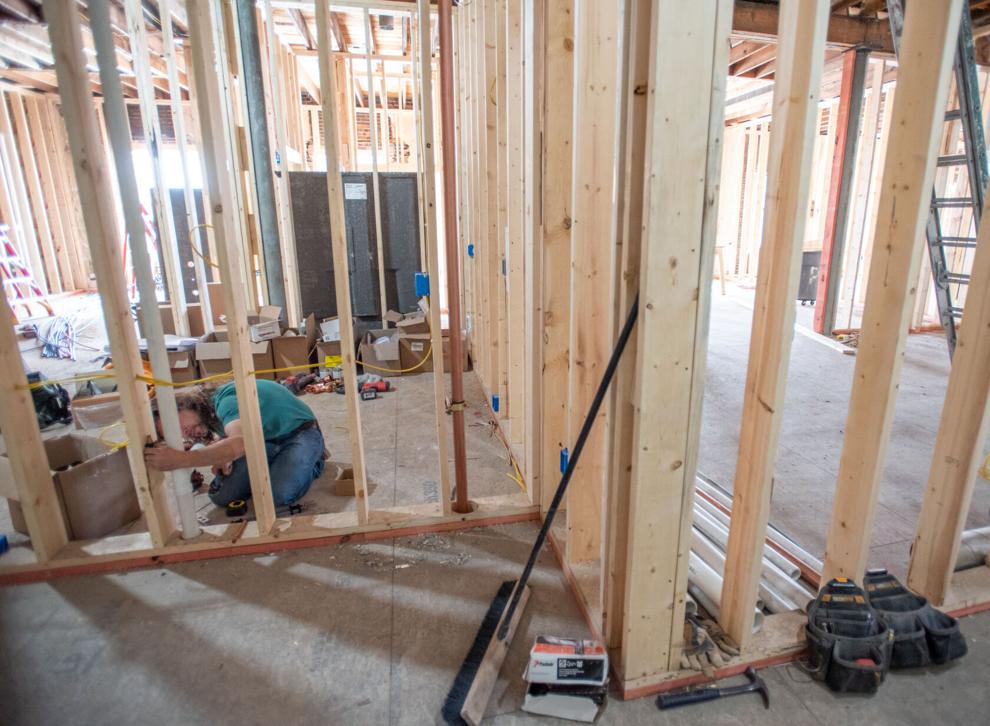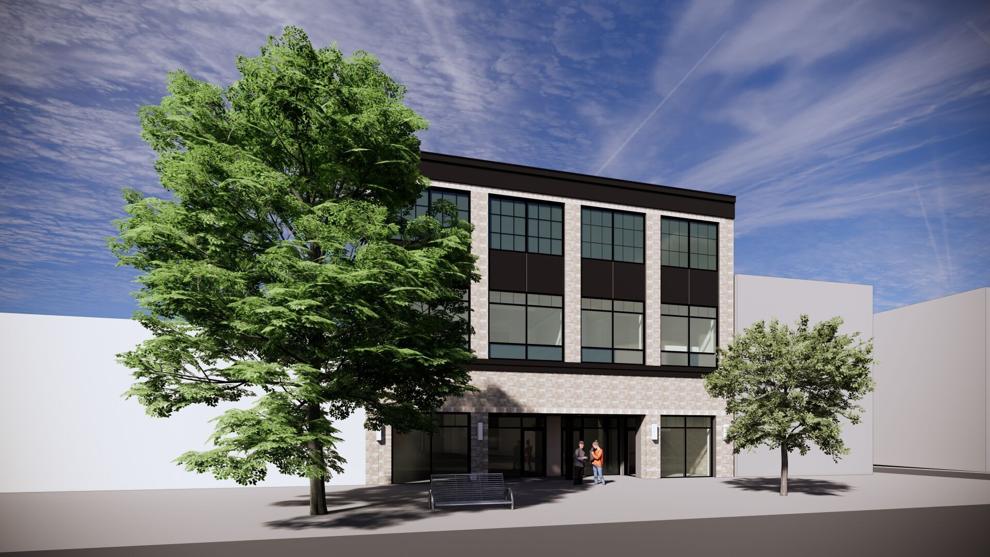 To subscribe, click here.
Sign up for our daily newsletter here
Renovation of the old Spritz Jewelers building in downtown Champaign is fully underway, with plans to finish the work in late November or December.
On the way are five high-end apartments upstairs and space for up to three commercial tenants on the ground floor, according to Nathan Escue, general manager of Hamilton Walker's and a spokesman for the group that owns both that restaurant and the former Spritz building next door at 205 N. Neil St., C. The jewelry store has moved to 205 W. Park Ave., C.
Work underway at the North Neil Street building is uncovering some of its history, but the upstairs needed a complete gut job with nothing being salvageable, he said.
"Upstairs is really interesting with many different rooms of past businesses," he said. "I think there was a salon up there at one point in history."
The building will have a new façade with light tan brick and black accents, which, Escue said, is "a little modern," but will still compliment the downtown.
"'The Spritzer' is what we're going to call the building," he said.
The owners had hoped that once the old jewelry-store facade was removed, the older historical one would still be there, but it wasn't, he said.
"That would have been really cool," he said.
Upstairs, one of the apartments will have two bedrooms and face Neil Street, and the other four apartments will have one bedroom each with south-facing windows, Escue said.
The apartments will have very high ceilings and high-end appliances, he said.
The commercial space has 5,000 to 6,000 square feet and can be divided into up to three spaces. It will be built to suit the tenant(s), Escue said.
The owners are looking to have the apartments and commercial space ready to lease for January 2024. Local Realtor P.J. Trautman is handling the leasing, Escue said.
New dining in Danville
The Golden Nugget Danville casino isn't open yet, but you can now dine within a stone's throw of the slot machines at its restaurant, Saltgrass Steak House, which is now open.
Danville Mayor Rickey Williams Jr. has already tried it and given it rave reviews on Facebook.
"Got to try Saltgrass Steak House at the Golden Nugget Danville last night, and it was every bit as delicious as it looked," he said.
The restaurant at 204 Eastgate Drive is serving Certified Angus Beef steaks topped with garlic butter, seafood, chicken, barbecued baby back ribs, burgers, sandwiches and salads along with made-from-scratch breads, dressings, soups and desserts.
Reservations are being taken online. The restaurant's temporary hours are 4-9 p.m., with regular hours to follow after the casino opens.
There's no official opening date yet for the casino itself, but Williams said local officials are hoping for final approval from the Illinois Gaming Board by the end of this month.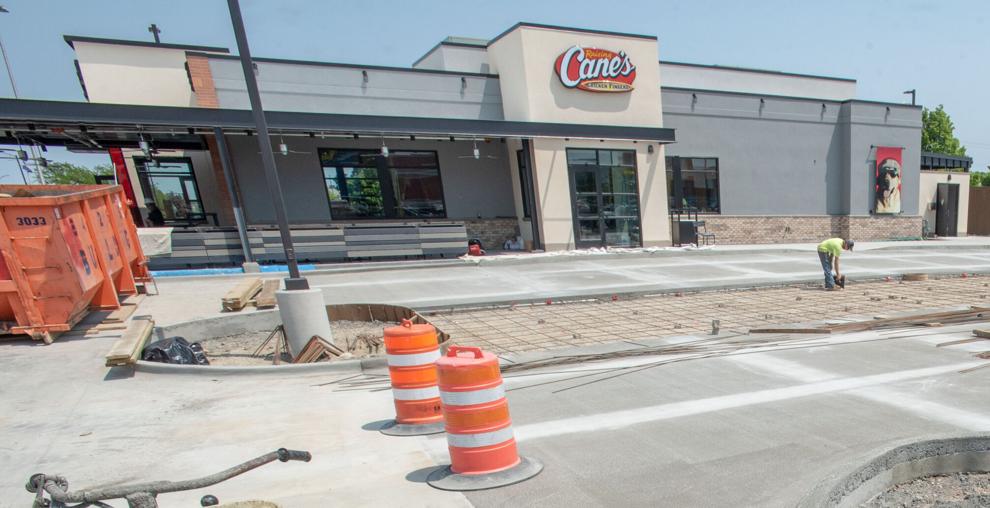 Busey offering scholarships
Busey Bank is offering its Bridge Scholarship program to applicants in Champaign County.
The bank will distribute 10 scholarships of $2,500 each to students living in Champaign, McLean, Peoria, Tazewell, Macon, Will, Grundy, Cook, DuPage, Madison and St. Clair counties.
The money can be used for tuition, fees, books or supplies for continuing education.
The deadline to apply is June 30. Applications and information can be found at busey.com/scholarship.
On the move
Here's the next spot in Champaign where i3 Broadband is installing fiber.
If you live between Crescent Drive, Mattis Avenue, Sangamon Drive and Kirby Avenue, expect i3 crews to be at work in your area.
According to an announcement from the city, the work will stretch for six-to-eight weeks from the first sprouting of utility flags in your yard until service activation.
Now hiring
The second Raising Cane's restaurant under construction in Champaign at 2121 N. Prospect Ave. is hiring.
Construction is still underway. But according to posts on online job boards, the chain is ready to open its second restaurant in Champaign (with no word back from the company about exactly when) and is hiring for all shifts.
Starting pay is $15-$16 an hour, with an extra dollar an hour after 10 p.m.
Needed are customer service employees "who can thrive in an upbeat and fast-paced environment" for all shifts.
"Whether you have previous experience as a customer service associate, retail team member, cashier, restaurant server, kitchen lead, cook, prep cook, drive-thru cashier or any other restaurant or service oriented role, we have a position for you," states one recent post on Indeed.
Raising Cane's also says its restaurants are closed most holidays and it offers employees such perks as discounted tuition and other benefits.