As Florida Gov. Ron DeSantis signs into law a bill stripping Disney of its longtime self-governing status in the state, his new book reveals he warned the entertainment giant about its political activities.
In "The Courage to Be Free: Florida's Blueprint for America's Revival," DeSantis argues that former Disney CEO Bob Chapek "understood the risk that the company faced" when it weighed in against DeSantis' efforts to restrict teaching about sexuality and "gender ideology" to Florida students from kindergarten to third grade.
But Chapek was facing pressure from, among others, his predecessor as CEO — and eventual successor — Robert Iger.
Iger, DeSantis notes, had already publicly come out against the bill. "Somehow," the Florida governor writes, Iger said the bill would "put vulnerable, young LGBTQ people in jeopardy."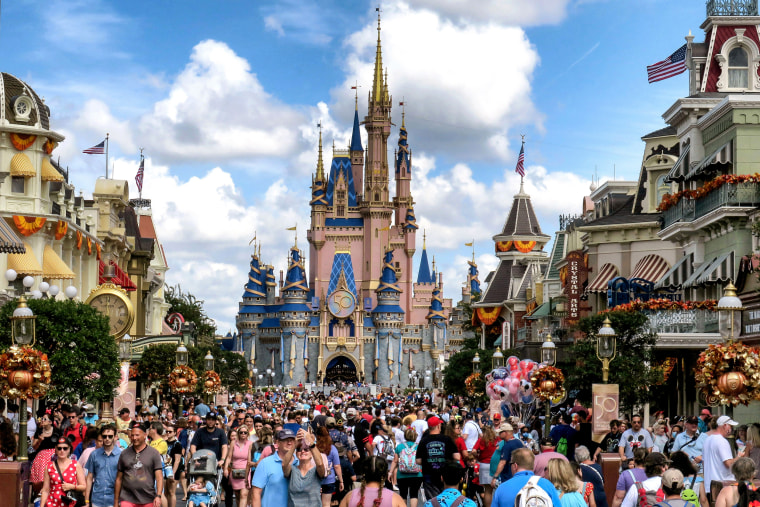 Opponents have warned about the consequences of the bill, including Lilian Bowen, a bisexual actress who starred on "Andi Mack," Disney Channel's first show to feature an LGBTQ character.
"When you're in a society constantly saying it's wrong, I guess we hide from even our own selves," she tweeted.
DeSantis writes that Chapek ultimately called him directly as he weighed how the company should respond. While DeSantis did not want Disney to get involved, the governor writes, Chapek said he was facing unprecedented pressure to weigh in against the bill.
"'We get pressured all the time,' he (Chapek) told me. 'But this time is different. I haven't seen anything like this before,'" DeSantis writes of his conversation with Chapek.
"Do not get involved with this legislation," DeSantis says he responded. "You will end up putting yourself in an untenable position. People like me will say, 'Gee, how come Disney has never said anything about China, where they make a fortune?'"
Where things stand now
Fast forward to Monday: DeSantis touted his victory on Twitter over what he called Disney's "corporate kingdom" as he signed into law a bill taking over the company's special governing area. For decades, the area, known as the Reedy Creek Improvement District, had let Disney make its own planning and zoning decisions. The company also had its own taxing and bonding authority.
Among those who will now oversee the district, now known as the Central Florida Tourism Oversight District, is Bridget Ziegler, a co-founder and former co-director of Moms for Liberty, a conservative activist group based in Florida that has helped turn school board meetings into political battlegrounds. Ziegler is also the wife of Christian Ziegler, vice chairman of the Florida Republican Party.
As for Chapek, he stepped down as Disney CEO in November and was replaced by Iger, who now serves as interim chief executive.
Disney did not immediately respond to a request for comment. The company previously stated it was monitoring the legislation.
"Disney works under a number of different models and jurisdictions around the world, and regardless of the outcome, we remain committed to providing the highest quality experience for the millions of guests who visit each year," a company spokesman said in early February.
Jesse Rodriguez contributed.