One year after Russia invaded Ukraine, many of the largest U.S. companies say their moves to suspend operations or withdraw from Russia remain in effect.
An NBC News review of the 30 companies that make up the Dow Jones Industrial Average found that 24 had disclosed businesses in Russia before the war. Of those 24 firms, 18 have either suspended business in Russia or exited the country over the past year, and the remaining six have reduced the scope of their operations there, according to company spokespeople reached by NBC News and past public statements.
Six companies in the Dow 30 haven't publicly clarified their business dealings in Russia, if any, since the invasion. But two of them — Walmart and Home Depot — told NBC News that they had no prior or current business there. The other four didn't respond to requests for comment.
Seven companies that announced last spring that they were paring back at least some operations from Russia didn't respond to requests for an update on those moves. But all 19 of the firms that did provide updates or confirmation of their status as of Friday said they had no plans to cultivate closer ties with Russia.
The trend extends beyond the C-suites of the Dow 30. 
Research from Yale University's Chief Executive Leadership Institute, led by Jeffrey Sonnenfeld, looked at 460 U.S. companies, of which 325 appeared to have suspended or exited their businesses in the country. The Yale researchers also counted over 1,000 businesses worldwide that have curtailed their operations in Russia. 
"Never before in history have we seen so many companies exit from a country overnight," said Steven Tian, a research director with the Yale institute.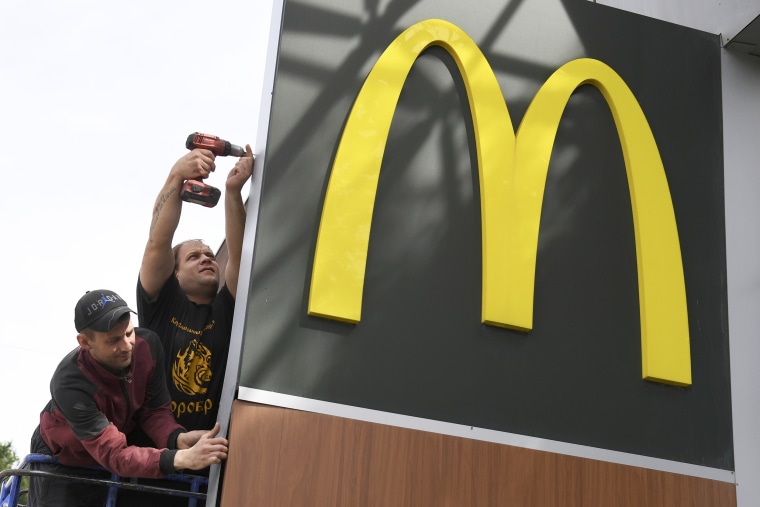 It has taken other companies many months to fully wind down their businesses in Russia as the war rages into its second year.
Hard Rock International, which had franchises in Moscow and St. Petersburg at the time of the invasion, told NBC News Friday that its franchise partner had closed the Moscow location. But the company, which isn't in the Dow 30, said the St. Petersburg partner hasn't agreed to follow suit.
"Hard Rock International is in the legal process of terminating the St Petersburg agreement and closing the Cafe," the company said in a statement.
'No longer tenable'
In some cases, companies paused their Russian operations to comply with sanctions imposed by the U.S. government, a new slate of which the Biden administration unveiled on Friday.
U.S. Treasury sanctions on individuals or entities have required major finance firms to cut certain ties. In addition to an extensive list of Russian oligarchs, the Treasury's Office of Foreign Assets Control designated Russia's largest banks and the Russian central bank as sanction targets, effectively barring U.S. companies and individuals from transacting and trading Russian securities and dealing with Russian firms.
Dow members JPMorgan Chase and Goldman Sachs both said last March that they would ultimately wind down their businesses in Russia in compliance with regulatory requirements.
Under intense public scrutiny, other Dow-member companies moved quickly last spring to issue statements, in many cases promising to suspend operations in Russia. Apple pledged to stop selling products in the country, Visa said it would cut off card transactions into and out of Russia, and Boeing stopped parts distribution and service agreements.
Other companies halted, and then exited, their businesses. After saying in March 2022 that it would close its Russian restaurants and pause operations, McDonald's moved two months later to begin selling more than 850 restaurants with the goal of leaving the country entirely, saying that owning businesses in Russia was "no longer tenable, nor is it consistent with McDonald's values."
For some major companies, leaving Russia entailed significant costs. McDonald's booked a $1.2 billion charge as a result of writing off its investment there. Honeywell took a $295 million hit as a result of winding down its Russian businesses.
For others, exposure to Russia was low, so the cost of leaving was small. American Express told analysts in March 2022 that its business dealings in Russia were limited to just one card partner, making any impact "not material." The software company Salesforce similarly said the impact of exiting its business with a "very small number" of Russia-based customers was minimal.
Decoupling
Not every company packed up and left entirely.
NBC News counted six companies in the Dow 30 that announced plans to partially retreat from Russia. Merck, Amgen and Johnson & Johnson have all suspended investments and clinical trials in Russia but are still selling essential medicines that aren't subject to international sanctions.
Procter & Gamble has stopped investments and reduced its product offerings in Russia but is continuing to provide basic health, hygiene and personal care items "needed by the many Russian families who depend on them in their daily lives." The Dow chemical company said it had suspended the purchase of feedstocks and energy from Russia but was still supplying "limited essential goods" like food packaging, hygiene, cleaning and sanitation products and other household items.
Russia's size, both economically and geographically, means some companies still have limited or indirect ties to the country.
For example, Chevron said it doesn't have exploration or production activities in Russia. But the oil giant has a 15% stake in a Kazakh pipeline linked to the Russian port of Novorossiysk. The company says the equity crude that it moves through the pipeline is Kazakh in origin and therefore not subject to international sanctions on Russian oil.
The construction equipment company Caterpillar has suspended manufacturing in Russia. Asked about reports that the company is continuing to move parts through the region as part of its supply chain, Caterpillar declined to comment. "We continue to comply with all applicable laws and evolving sanctions," a spokesperson said.
Even in the banking industry, where sanctions restrict business activities, some lines are blurred. After a brief pause last summer, some Wall Street banks resumed facilitating trades in Russian debt.
Those moves brought liquidity to an otherwise dried-up market for Russian government bonds, potentially allowing investors outside the U.S. to participate in the secondary market. However, the Treasury clarified last year that such trades were allowed under U.S. sanctions, provided they were part of efforts to wind down existing investments.