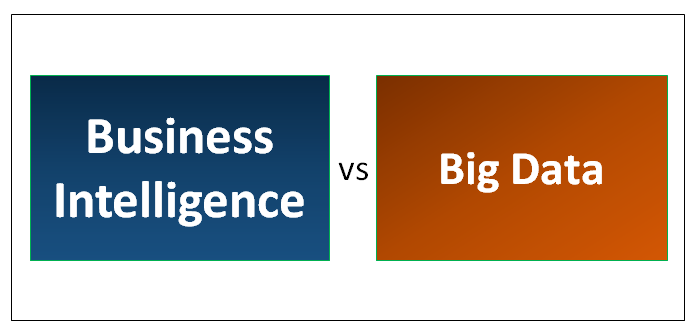 Differences Between  Business Intelligence And Big Data
Business Intelligence in simple terms is the collection of systems, software, and products, which can import large data streams and use them to generate meaningful information that point towards the specific use-case or scenario.
Big data is the most buzzing word in the business. Big Data is changing our day to day business life. Everybody thinks that Big Data is nothing but a massive amount of data. But in reality it's not a just massive amount of data, it is also about the structure of the data, processing the data with the purpose of delivering added value to the organization.
Head to Head Comparison Between Business Intelligence and Big Data (Infographics).
Below is the Top 6 Comparison between Business Intelligence vs Big Data

Key Differences Between Business Intelligence and Big Data
Below is the list of items, explain the differences between the Business Intelligence and Big Data
Both BI and Big data goal is to help the business to make good decisions by analyzing the huge datasets to expand the business and optimizing the cost.
This data analysis not only enables decision making but also involves an active part in the development of strategies and methods that make sure the success of organizations. This data analysis can be called "Business Intelligence", whereas "Big Data" is a relatively new term for Business intelligence.
Since the times of BI, the volumes of data sets become incredibly large, the best example we can consider is social media. As the result, more effort and strategies should be applied to tackle with them and make them useful for successful business.
Business Intelligence helps in finding the answers to the business questions we know, whereas Big Data helps us in finding the questions and answers that we didn't know before.
Although Business Intelligence and Big Data are two technologies used to analyze data sets to helps organizations in the decision-making process, there is differences present between them. They both differ in the way they analyze the data.
Business Intelligence is based on the principle of combining all business data sets into a central server, this data will be analyzed in offline mode, after saving the information in a platform or environment called Data Warehouse. The data sets are structured in a relational database with additional indexes and forms of access to the tables in the warehouse.
Whereas in the Big Data environment, data is stored on a distributed file system (e.g. HDFS), rather than storing on a central server. Data will be distributed across the worker nodes for easy processing. Distributed File System is much safer and flexible.
BI solutions carry the data to the processing functions, whereas Big Data solutions take the processing functions to the data sets. Since the analysis is positioned around the information (Data), it is simpler to handler lager amounts.
BI solutions are more towards the structured data, whereas Big Data tools can process and analyze data in different formats, both structured and unstructured.
Big Data solutions can process the historical data and also data coming from real-time sources, whereas in Business Intelligence, it processes the historical data sets.
Big Data technology uses parallel processing concepts (Map reducing algorithm), which improves the speed of analyzing and processing the data sets by distributing jobs into several parallel execution processes, at the end the results are combined and shown, this makes analyzing the large volumes easier.
Business Intelligence vs Big Data Comparison Table
Below are the comparison below:
Comparison of Objectives
Business Intelligence
Big Data
Purpose
The purpose of Business Intelligence is to help the business to make better decisions. Business Intelligence helps in delivering accurate reports by extracting information directly from the data source.
The main purpose of Big Data is to capture, process, and analyze the data, both structured and unstructured to improve customer outcomes.
EcoSystem / Components
Operation systems, ERP databases, Data Warehouse, Dashboard etc.
Hadoop, Spark, R Server, hive, HDFS etc.
Tools
Below is the list of tools used for business intelligence.
These tools enable a business to collate, analyze and visualize data, which can be used in making better business decisions and to come up with good strategic plans.

Tableau
Qlik Sense
Online analytical processing  (OLAP)
Sisense
Data Warehousing
Digital Dashboards and Data mining
Microsoft Power BI
Google Analytics etc

Below is the list of tools used in Big Data. These tools or frameworks store a large amount of data and process them to get insights from data to make good decisions for the business.

  Hadoop
  Spark
  Hive
  Polybase
  Presto
 Cassandra
  Plotly
  Cloudera
  Storm etc

Characteristics/ Properties
Big data can be described by some characteristics such as Volume, Variety, Variability, Velocity, and Veracity.
Below are the six features of Business Intelligence
Location intelligence, Executive Dashboards, "what if" analysis,  Interactive reports, Metadata layer, and Ranking reports
Benefits
Below is the list of benefits of Business Intelligence

Helps in making better business decisions
Faster and more accurate reporting and analysis
Improved data quality
Reduced costs
Increase revenues
Improved operational efficiency etc.

Below is the list of benefits of Big Data

Better Decision making
Fraud detection
Storage, mining, and analysis of data
 Market prediction &and forecasting
Improves the service
Helps in implementing the new strategies
Keep up with customer trends
Cost savings
Better sales insights, which helps in increasing revenues  etc

Applied Fields
Social media, Healthcare, Gaming Industry, Food Industry etc
The banking sector,  Entertainment, and Social media, Healthcare, Retail and wholesale etc
Conclusion
In the present era, the importance of data in business is very vital; because meaningful decisions can be made only with analyzing the data and these decisions will help business to grow further. Both the BI and Big data helps to analyze the data to get the insights and to view the relevant data.
Business intelligence and Big Data need to be synchronized, need to be used together. They both are not the same thing, but they share a lot of the same common goals. A lot of the distinctions between Business intelligence and Big Data tend to be arbitrary.
Recommended Article
This has been a guide to Business Intelligence and Big Data, their Meaning, Head to Head Comparison, Key Differences, Comparision Table, and Conclusion. You may also look at the following articles to learn more –
 Need to Apply for Better Sales Development
Artificial Intelligence vs Business Intelligence – Learn 6 Useful Comparison
Business Intelligence vs Data analytics – Which is More Useful
10 Difference Between Small Data Vs Big Data
Differences Between Big Data Vs Predictive Analytics
Introduction to Career in Business Intelligence