Why should you consider learning this skill? (3 Reasons)
It makes a ton of difference if you are able to pack your analysis in the form of an insightful and beautiful Dashboard. It gives a sense of finish to your work and looks refined and classy
You'll be able to uniquely position yourself as a strong employee / candidate for a job or promotion
You'll be able to save time and focus on making decisions using Dashboards rather than wrestling with spreadsheets
---
Presenting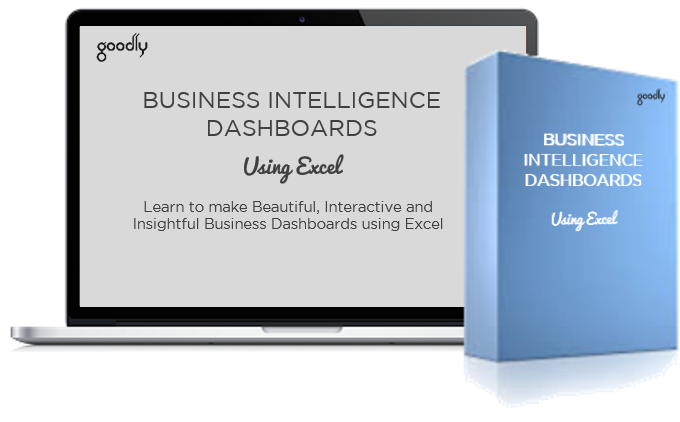 Learn the step by step process to create Beautiful, Interactive and Insightful Dashboards using Excel
---
Course Structure
The course is split into 2 parts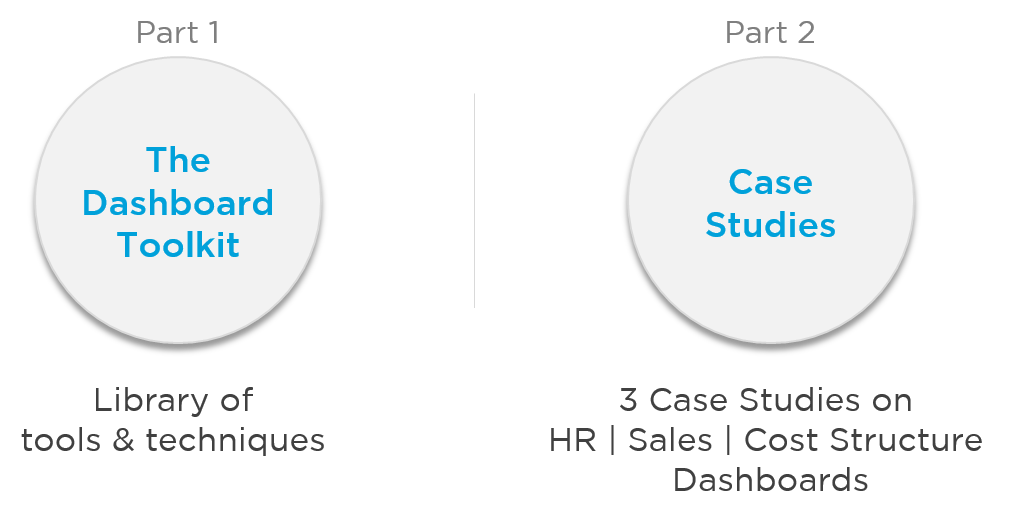 1. The Dashboard Toolkit – Library of tools and techniques that you can use in your own Dashboards
Module 1 : Dashboard Planning and Pre-Work – Learn a structured way to plan your Dashboard even before you start working with Excel
Module 2 : Advanced Excel Techniques – Out of the box Excel tricks and techniques that will help you create automated and dynamic spreadsheets
Module 3 : Visualization & Charting Library – More than 20 Visualization & Charting ideas that you can learn and implement in your own Dashboards
Module 4 : Dashboard Formatting & Design Principles – Learn the key principles to make your Dashboards look professional and clean
2. Comprehensive Case Studies – Learning to create Dashboards from scratch
Case Study 1 : Human Resource Dashboard
Case Study 2 : Sales Performance Dashboard
Case Study 3 : Company Cost Structure Dashboard
3. Bonus Material + Assignments – You'll also get access to supplementary material + assignments to help you get hands on practice
100 + Excel Shortcuts Pdf
Formula Library – 50 most important formulas explained + practice spreadsheets
Assignments – Interim Assignments + 1 Comprehensive Dashboard Assignment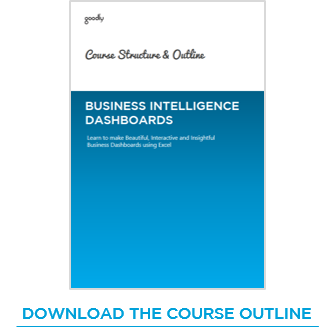 This is exactly what you'll learn in this course
---
Here is what you'll get on Enrollment
BI Dashboard Course + 3 Comprehensive Case Studies (1 year downloadable access)
Bonus Material on Excel Formulas (Videos)
One Comprehensive Assignment on a Dashboard Case Study
What should you expect after you are done with the course

You will be able to create World Class Dashboards with your own business data
Acquire an in-demand skill and position yourself strongly in front of your boss / management and colleagues
Save a ton of time by producing intelligent and visually appealing business reports rather than doing ad-hoc analysis
Learn variety of techniques to visualize data
---
Frequently Asked Questions
What is the level of the course ? I am a beginner, should I join the course? Are there any Pre-Requisites for this course?
The course is a step above the beginner / intermediate level. You need to have basic to intermediate level of Excel Skills. To be more specific you should be comfortable to work with
Simple Formulas (like IF, Vlookup, Index Match, SumIf, CountIf etc..)
Pivot Tables
Charts (creating, editing and formatting)
Some bit of conditional formatting
If you are not confident about Excel and want to learn Excel in depth along with Dashboards, then I strongly urge you to enroll in a combined course (BI Dashboards + Master Excel Step by Step). You can choose the combo option in the pricing plan
Master Excel Step by Step is a comprehensive course on Excel and covers all important concepts in Excel (Basic to Advanced)
Can I download the lectures/videos?
Yes all lectures are downloadable and you can keep them for later reference
Do I require the knowledge of VBA Coding to understand the course material ?
No you don't need to know VBA for doing this course
Although some lessons of the course involve VBA but I have made sure that they are simple to understand and quickly replicable in your own Dashboards
What version of Excel is used?
I have used a mix of Excel 2013 & 2016 in this course. But even if you have older versions of Excel that should not be a problem because most concepts are universal in excel.
Where ever there is anomaly in any feature that is exclusively available in Excel 2013/16, I have pointed it out explicitly
How does the course look from inside?
Here is a short course tour video
DOWNLOAD THE LIST OF ALL FAQs