About Business Intelligence Certification Course
| Course | | No. of Hours |
| --- | --- | --- |
| BI – Business Intelligence | | 14h 51m |
| Business Intelligence using Microsoft Excel | | 5h 1m |
| Business Intelligence with Tableau | | 5h 47m |
| BIP – Business Intelligence Publisher using Siebel | | 2h 22m |
| Analytics using Tableau | | 9h 03m |
| Projects on R and Tableau – Customer Analytics | | 2h 11m |
| Projects on R and Tableau – Pricing Analytics | | 2h 02m |
| Project on R – Card Purchase Prediction | | 2h 31m |
| Comprehensive Course on R | | 4h 1m |
| Project – Predictive Modeling using Minitab | | 16h 11m |
| Project – Predictive Modeling using SPSS | | 13h 32m |
| Project on SAS – Predictive Modeling with SAS Enterprise Miner | | 9h 35m |
| SAS Features for Starters | | 1h 54m |
| Predictive Modeling Training | | 2h 2m |
| Data Science with Python | | 4h 22m |
| Big Data and Hadoop Training | Online Hadoop Course | | 2h 5m |
| Hadoop Architecture and HDFS | | 6h 24m |
| Oracle SQL | | 18h 6m |
---
| | |
| --- | --- |
| Course Name | Online Business Intelligence Training Course Bundle |
| Deal | You get access to both the 12courses, 6 Projects. You do not need to purchase each course separately. |
| Hours | 121+ Video Hours |
| Core Coverage | Business Intelligence using Microsoft Excel, Business Intelligence with Tableau, Predictive Modeling using Minitab and SPPS, SAS – Predictive Modeling, Data Science, Big Data and Hadoop |
| Course Validity | Lifetime Access |
| Eligibility | Anyone who is serious about Business Intelligence and wants to make a career in this field. |
| Pre-Requisites | Knowledge of R, SAS Programming Language would be useful |
| What do you get? | Certificate of Completion for each of the 12courses, 6 Projects |
| Certification Type | Course Completion Certificates |
| Verifiable Certificates? | Yes, you get verifiable certificates for each course with a unique link. These link can be included in your resume/Linkedin profile to showcase your enhanced skills |
| Type of Training | Video Course – Self Paced Learning |
| System Requirement | 2 GB or above RAM |
| Other Requirement | Speaker / Headphone |
Online Business Intelligence Course Curriculum
---
The below table gives you a complete overview of all the Business intelligence courses and the list of chapters covered in this business intelligence certification content –
Goals
This course focuses on how business intelligence uses business analytics tools that make it easy to combine data from multiple sources, analyze and visualize information. It helps trainees in making more informed and better decisions to guide the business. After the completion of the course trainee will be through with all the concepts of business intelligence.
Objectives
The objective of this course is to assist the folks in running a business strategically. One of the main objectives of this training is to train you on all the concepts that are related to business intelligence. The purpose of the Business Intelligence training program is to support better business decision making. Topics like BI – Business Intelligence, Business Intelligence using Microsoft Excel, Business Intelligence with Tableau, BIP – Business Intelligence Publisher using Siebel Analytics using Tableau, Predictive Modeling Training and, SAS Features for Starters are covered in the training program.
Course Highlights
This training program comprises seven modules that are further subdivided into training units as well as projects. These units have been outlined in such a manner so that it could include all the necessary information about the training. BI – Business Intelligence will be the first module in which In this course you will learn the basic principles and elements of Business Intelligence and how to apply it to achieve sustainable and profitable business growth. By the end of the course, you will be able to build the fundamental architecture for functioning business intelligence systems. It will be almost a fourteen hours long video tutorial which will give you a brief introduction about the training modules and the carried on by the brief of the business intelligence. Business Intelligence using Microsoft Excel is the next where you will learn about how you can BI can be used to gather data, visualize data, and share information with people in your organization across multiple devices using Microsoft Excel. It will help the trainee to know how to manage data. Business Intelligence with Tableau is where you will learn about the basics of the tableau and how it can be used in business intelligence. It is going to be almost a five hours long video tutorial where the first half an hour of the video has been devoted to introducing this software to you. Analytics using Tableau is next to where you will learn about advanced tableau and it can be used in analytics. It will be a nine-hour long video tutorial in which detailing will be done step by step to make it easy to understand by the trainees.  Predictive Modeling Training is where you will introduce you to some of the most widely used predictive modeling techniques and their core principles through video tutorials in a well-explained manner.
Project Highlights
This training program includes seven training modules which will be covered briefly through the video modules. So the project will cover all the training modules and various sub-points Projects on R and Tableau – Customer Analytics is the first project where you will work on how customer analytics using R and Tableau is beneficial in unlocking the customers' details. You will be focusing on all the topics that you would have covered in this course to draft a solution for this project. Projects on R and Tableau – Pricing Analytics is next in which you will be working on how pricing analytics can be done using R and Tableau. This project will increase your understanding of the course and how R and Tableau are used. Project – Predictive Modeling using Minitab is next to where you will be working on how predictive modeling can be performed using Minitab. The concepts will be explained through videos and all kinds of queries will also be solved by the mentor. Project – Predictive Modeling using SPSS will be the next project in which you will be Predictive Modeling skills across different business domains. It will be explained through a video lector how the project is supposed to be done. +6 More Courses and Projects10 More Projects and courses will be there in the course. After completing all of these projects, you will be able to work effectively in business intelligence and will be able to resolve all BA based problems practically.
---
Certificate of Completion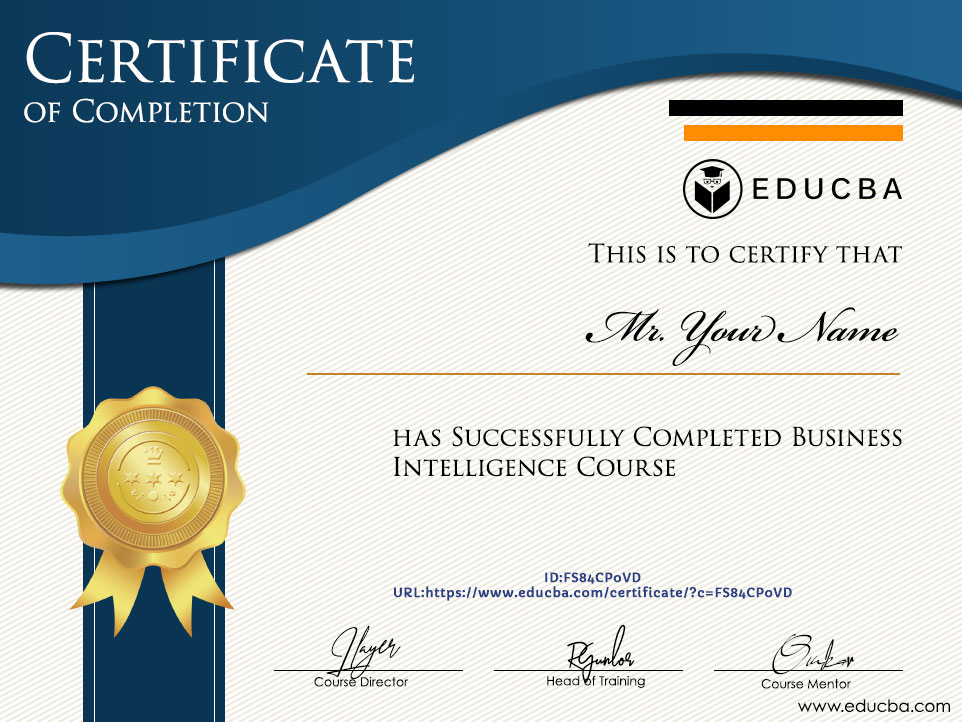 ---
What is Business Intelligence
Business Intelligence can be defined as a set of methods or techniques which can be deployed to handle a large amount of data and extract meaningful information out of it. BI is used by organizations across the globe for the day today as well as the critical decision-making process. It helps organizations to leverage the technology into their core businesses which in turn helps them focus on the merits and demerits of their business. They get important insights into what is working well and what needs improvement.
In the age of the digital economy today, Companies have a mine of data that waits for exploitation. These companies generate a lot of data in their day to day transactions. The process by which all these data can be turned into actionable insights is called Business intelligence. Using Business Intelligence, companies can gain greater insight into their activities. They can find new opportunities. BI can also help them correct existing processes if anything is not going as intended. It can also help in the Identification of recent trends and competitive advantage over rivals in the market. Companies can identify top-selling products and services, potential growing market and demand-supply gap, etc. based on a few factors. It has huge applications. BI helps companies monitor their progress, know their pain points, control costs and bring discipline into their planning and expenses as well.
Industry Growth Trend
ss Intelligence (BI) market is expected to grow from USD 17.09 Billion in 2016 to USD 26.88 Billion by 2021, at a CAGR of 9.5% from 2016 to 2021.
[Source – MarketsandMarkets]
Average Salary
Average Salary$92,633 per year
The average salary for a Business Intelligence Developer is $92,633 per year in the United States.
[Source – Indeed]
What tangible skills will I learn from this Business Intelligence course?
The important tangible skill that users will learn from this Business Intelligence training certification are as below: –
Hands-on coding skills with many languages and frameworks such as R and python.
Practice and use of tools such as Tableau, Minitab, SPSS and SAS.
Exposure to Excel and Macros.
Exposure to Hadoop and its fundamentals.
Data visualization using Tableau.
SQL skills and basics of Oracle.
For BI perspective, SQL, Tableau, SAS, and Excel is a must which each BI profession should know. Rest is more towards the role of data science and hence can be defocused if someone gets overwhelmed with the content quantity.
Each of these skills is quite comprehensive and it is impossible to learn them all at a time. This Business Intelligence training course tries to shed light on important aspects of languages, frameworks, and tools mentioned above but still, there is huge room for further learning and upskilling. This Business intelligence certification course covers only the introductory and fundamental parts of the above techniques. This acts as an initial push to make the candidate comfortable with certain tools and technologies and once a candidate picks it up, they can further learn all topics or specialize in any one of them by themselves without any guidance or hand-holding.
Pre-requisites
This Business Intelligence certification course is suitable for people with a technical background. Graduates in engineering, technology or basic science with sufficient exposure to programming can take this course. Following are the pre-requisite for a complete understanding of this course: –
Familiarity with any one programming language such as C or C++.
Familiarity with Windows or Linux operating system.
Strong understanding of high school level mathematics.
Ability to expresses ideas and explain findings to people, however, this skill can be learned in this business intelligence certification course as well.
Ability to learn new skills quickly and adapt to new technologies and skills.
Target Audience
This Business Intelligence training is suitable for a wide range of people who come from varied backgrounds and skill-set. Thus the target audience for this Business intelligence certification  course could be one of the following: –
Fresh Graduates in engineering such as B. Tech or M. Tech, computer programs such as BCA or MCA and similar people with similar degrees who are looking for a job in a competitive market.
People working as database developers, backend developers or junior analysts who want to switch to more exciting career options with better pay and cutting-edge opportunities.
People working as an architect, product owner, product manager, scrum master, team lead, etc. who want to exploit the benefits of business intelligence and data science in their projects.
Already working BI developers who want to upskill themselves and learn new technologies that came into market science they last touched the book.
FAQ's- General Questions
---
In this Business Intelligence certification course, we post questions that our students ask frequently before the make the decision to enroll in this course: –
What is going to be the demand for this Business Intelligence skill five years from now?
This Business Intelligence certification course teaches BI and predictive analytics tools. The natural succession of these skills is machine learning and artificial intelligence which are going to be the big thing in the coming decade. Hence the foundational understanding of what is being taught in this Business intelligence certification course is a must to flourish in the era of big data, machine learning and AI.
Why should I enroll in this Business Intelligence course and not similar to another course in the market?
This Business Intelligence training is probably the only one where users get to learn a wide variety of tools under a single curriculum. No other course probably covers so much. Students can learn R, Python, Excel, Hadoop, Big Data, SPSS, SAS, Minitab, Tableau, Siebel, etc.
Does this course provide a certification which shall help me in finding a job?
Yes. This business intelligence training certification provides a verifiable certificate in which employers can check for its authenticity and hence supports learns not only in learning but also invalidating the skillset.
Career Benefits
Career Benefits of this Business Intelligence training course are many. To start with, users learn new skills which are very important for the software industry. Those who do not upskill themselves, perish in the long run. Apart from upskilling, it makes the candidate ready for the job market is a challenging and growing field of business intelligence, predictive modeling, data analysis, and data science. Students learn practical skills with hands-on coding practices and case studies solving skill which removes any kind of hesitation that candidates can have before applying for new jobs and fill them with confidence. Other benefits include career progression, promotion in the current job by taking new responsibilities and learning to solve critical business problems. Managers and people in leadership roles can learn skills from this Business intelligence certification course to provide guidance and mentorship to junior developers who are going to code in Business intelligence-related projects or solve predictive analytics problems. Corporate training, hence, is also given in this field.
Reviews
---
Amazing
This Business Intelligence Training is the main element to understand the power of the data, very clear and well explained. It has unique characteristics and handles very important elements in the development of business intelligence projects. It presents the organization and management of the information from the beginning of the project to the end, regardless of the tool this is the fundamental knowledge that anyone who works with business intelligence projects should have, I recommend it 100%.
Linked
Juan Carlos Pardo
Business Intelligence with Tableau
This was my first course with Tableau and it was very useful for the development of my skills. I took this course since a friend of mine told me that Tableau has become an industry standard for best practices in data visualization. The part of the training that was most useful was the forecasting with Tableau and this was new to me. A great course overall.
Linked
Gus Raposo
Fundamentals of BI
This Business Intelligence Training Certification about the fundamentals of BI was very rich in content. With 102 videos, it may seem like a lot, but considering there are books about this that would span hundreds of pages, having these videos with full images and complete explanations was a very good chance of pace and a good way of learning.
Linked
Hector Aguado
Business Intelligence Training Certification
This is an extremely serious course. It includes advanced lectures on Teradata, ETL and Data Mining. All worthy of a university course. This course from eduCBA is very important for every businessman.
Linked
Greg Kowalczyk
Tableau course
This Business Intelligence training will now help me use tableau more efficiently and will help me be more marketable in the job hunt. During the course I was able to learn how to make charts include formulas and much more. Since I work with a lot of numbers and tables each day, this course will help me be able to organize data much more efficiently as well as display the data In a more professional manner.
Linked
Shaurya Bhagat