Companies today are searching for innovative solutions in an ever-evolving work environment. COVID-19 has convinced businesses of their need to look for flexible approaches to these environments. The Ukrainian War, in the center of Europe, can be seen as another "tectonic shift" towards the instability of the world's status quo, and has undeniably had a noticeable impact on business.
The military conflict in Ukraine has opened its businesses to the world, especially its IT industry. World-famous startups, such as DepositPhotos, Terrasoft (Creatio), Preply, Grammarly, Petcube, MacPaw, People.AI, RefaceAI, Coursmos, YouScan, were created by Ukrainians within this volatile market environment. Against the backdrop of global instability, this kind of experience is of great interest to companies in the USA and Canada, wherein remarkable results have become possible thanks to innovative IT professionals and entrepreneurs.
About Dmytro Chashnyk, CEO at Cobit Solutions, Business Intelligence & Data Consulting Company
Dmytro Chashnyk, an experienced innovator and a founder of Cobit Solutions (the company operating in Power BI implementation sphere and data-driven decision consulting), is a person who left a C-level position to start a business in data. Before Russia's invasion of the Ukraine, his business intelligence consulting company became #1 in Power BI consulting across Ukraine and had secured its first international clients. The mission of Dmytro and his team was to develop the country's economy by implementing the concept of data-driven decisions in local companies. It was not without its challenges however, as not all CEOs are receptive to changing the reporting system in the company. Despite their reservations, their fears have been allayed after seeing dashboards for business, and they've often signed additional contracts for an even deeper immersion in analytics. One could find more about modern Business Intelligence development approach at https://cobit-solutions.com/en/
According to Dmytro, it is important to talk with CEOs and financiers about the most important thing to them, profit, margins and development of the company; a common issue for innovators, who tend to speak in technical terms. To overcome this, Dmytro obtained an additional finance degree and studied modern management strategies. The combination of technical acumen and an innovative financial approach has become the fundamental factor for the success of Dmytro and his Power BI consulting company in the Ukrainian market. This is quite clearly shown by their list of clients – numerous top companies from 22 different types of industry in the economy.
One of Dmytro's well-known innovations in BI and business dashboard development was a technological approach for fully exploring ERP data inside BI. The advantage of this method is that clients get full access to all of the data in their ERP system from the BI system. This technology solution does not require complex and long ERP modifications, interim export to DWH, or expensive and time consuming development of complicated ETL processes.
The innovation works with any amount of data and provides comprehensive ERP data analytics for future reporting. The approach provides large companies with the flexibility and speed of a BI system start . In other words, it offers automatic reporting, quick decision-making, as well as opportunities for business development.
Dmytro had an interesting case in his business intelligence consulting company while working with the largest electronics retailer in Uzbekistan. Every three months, 20 employees of the holding would prepare a report for top management which usually took them three weeks. After introducing the automatic financial consolidation of 14 ERP systems in the holding, report generation now takes 15 minutes and is done automatically. It means that every day, management & executives are able to see all the consolidated data in business dashboards on Profit & Loss, Sales margins, Working capital, and Cash flow. They can make management decisions based on this data without having to wait three months for a report. 
Dmytro says that the contract with the Uzbekistan retailer became truly significant as it was signed after the military invasion and the subsequent fall of the Ukrainian market. It helped to save the team and many jobs, and means the company is able to continue paying taxes to the Ukrainian budget. 
Overcoming challenges in BI implementation
Dmytro and his business intelligence consulting company team took four months to implement the project with Uzbekistan holding. A similar project would take US and Canadian companies 10-12 months at the cost of 15-20 times more. Dmytro is currently working on a similar solution for ERP systems widely used in North America: JDE, EPM, EBS, SAGE, SAP, IFS, Infor and others. He is confident that this will revolutionize the market for DWH and ETL solutions development services.
One of the insights of the US and Canadian market is that data-driven decisions and development of dashboards could bring many managerial innovations to companies in the USA and Canada. Many of these solutions and innovations that improve business and, consequently, the country's economy have successfully proven themselves in Ukraine's more dynamic and complex market.
Dmytro notes that despite different continents and mentalities, the reporting and data challenges faced by corporations and companies in North America are the same as in Ukraine. In Ukraine, business intelligence consulting companies  have learned to solve reporting and data challenges promptly and efficiently with much smaller budgets. Dmytro plans to bring his innovations to the companies in North America he plans to work with – his being one of the strategies for his business development in the future.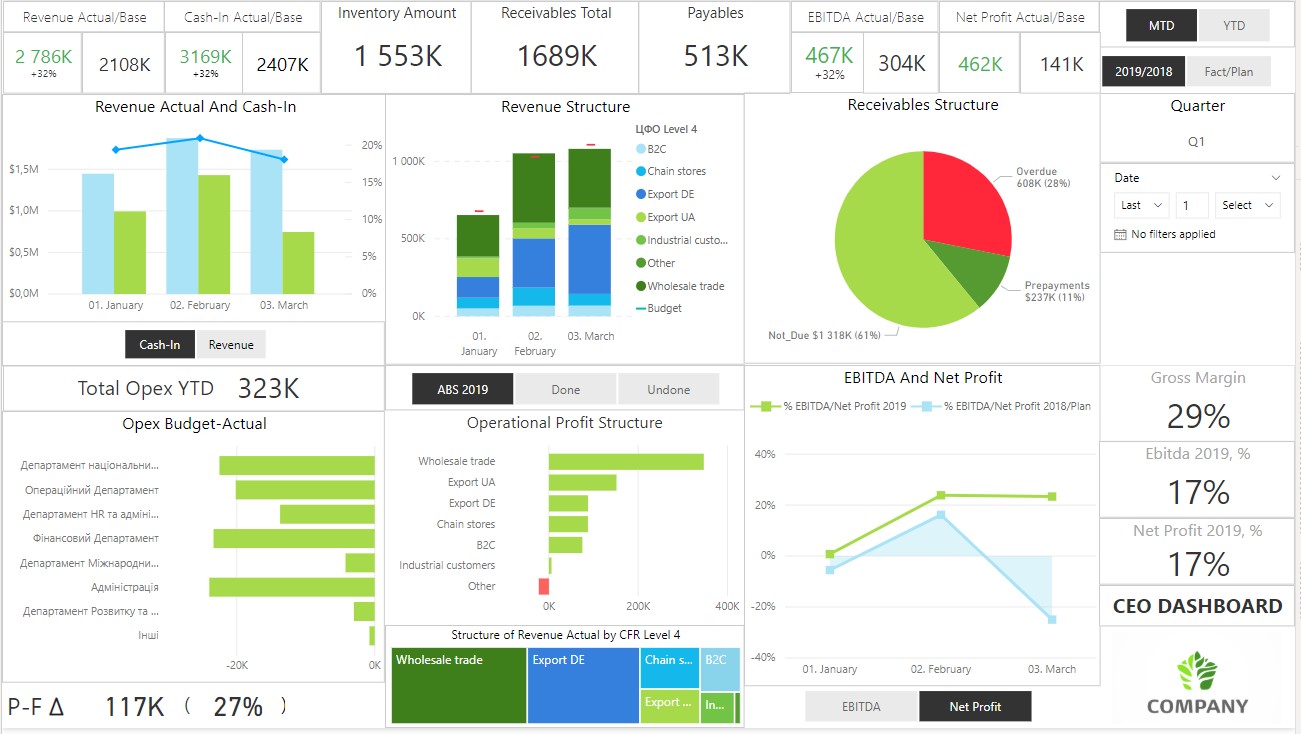 A visionary innovator for Business Intelligence & Analytics Development
Dmytro Chashnyk has been passionate about the power of data and new technologies for over a decade. Thanks to his innovative approaches, he quickly climbed the career ladder from an IT specialist to the position of CIO at StarLightMedia, the largest media holding company, where he managed 80 IT-engineers in 11 teams.
Dmytro was one of the first to explore the Ukrainian broadcasting market to design technical architecture and implement a Netflix-style VoD video platform. His key technical decision in the project was in applying an innovative combination of open-source solutions for a high-load platform. It was a TV industry breakthrough at that time, providing as many as 2 million video views per day.
Dmytro lives for innovation, not only does he create his own developments but also follows everything that is happening in the world with regards to innovation. For example, in 2016, Dmytro saw that Bitcoin was becoming a new trend in the technology market, an innovative tool for making cross-border payments to overcome payment restrictions, and a huge new economy. He was one of the first in Ukraine who believed in the idea and invested in bitcoin mining. However, he sold all the cryptocurrencies when the crypto market changed from being innovative to being more speculative in its approach.
The following year, Dmytro foresaw a trend for the development of Power BI consulting and the concept of data-driven decisions. Therefore, a year later, he left the C-level position of the media holding and opened his own business intelligence consulting company. He now faces new challenges. He believes in management decisions predicated on deep data analysis and his experience in the sphere could be very useful and rewarding for companies in the USA and Canada. It is very likely that only businesses with strong innovative approaches will survive and develop in the future.