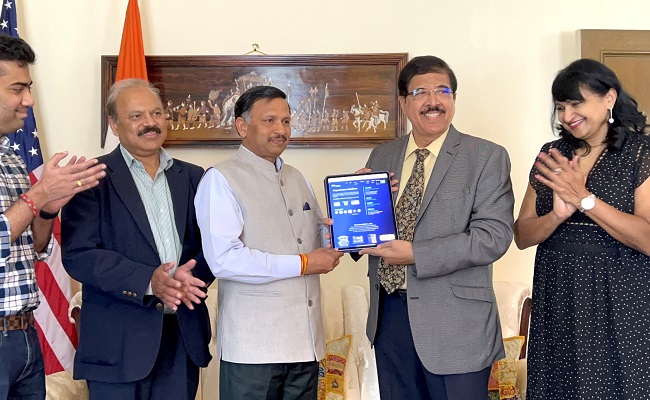 Telugu Times, the first global Telugu Newspaper coming from San Francisco, USA announced Telugu Times Business Excellence Awards 2023, a first of its kind activity for Telugu Business community.
Speaking on this, Mr Venkata Subba Row Chennuri, Editor and CEO of Telugu Times said that, "Telugu Times started as a Print copy 20 years ago and is now serving the NRI Community in USA as Print copy, ePaper, Portal, YouTube Channel, Event coordinator, Liaison agency and thus popular among Telugu community especially in USA. On the eve of Telugu Times' 20th anniversary , we announced Telugu Times Business Excellence Awards 2023, with objectives of developing a Platform for Telugu business community in USA for getting identified, selected, and awarded foe their excellence Mr Subba Row also said that Dr TV Nagendra Prasad , Hon'ble Consul General of India, San Francisco released the website".
Click here and the identified categories are 
1. IT Technology 
2. IT Staffing 
3. IT Start Up 
4. Real Estate/Construction 
5. Banking/ Insurance/ Financial Services 
6. Hospitals/Health care 
7. Hotels/ Restaurants 
8. Manufacturing / Pharma 
9. Cinema/TV/Entertainment 
10. Others and also will have two broad categories of I ( up to $25M ), II ( $25M and above ) on business turn over.
Mr Subba Row informed about the selection procedure like Entry by Nominations and Selection by Panel of Advisers followed by a Grand Awards ceremony on Saturday, 24 June 2023 which will be LIVE Cast by TV9 and Digital media and also subsequently promoted widely in Social media. The event will be an Annual activity for which every business firm should look forward to participate. Currently Falcon X, the Accelerator facility for IT companies is the Venue Partner, Bay Area Telugu Association (BATA) will be the Organizing Partner while all National Telugu bodies like TANA, ATA, NATA, NATS, TATA, TDF etc. are Community Partners Mr Subba Row requested all Entrepreneurs to actively participate by sending their Nominations today itself and make the activity and event a grand success.
For more information:
Venkata Subba Row Chennuri
Editor, Publisher & CEO – Telugu Times
6139 Banner Dr, San Jose, CA 95123
Ph: +1 317 544 9122 (USA) +91 98495 99625 (India)