There is no doubt that companies understand the importance of business intelligence (BI) to supporting the efficient and effective running of the organisation.
Continued economic uncertainty and major industry-changing dynamics like mobility and the shift to digital business put a premium on data and information. Whether it's optimising processes, improving customer service, increasing the accuracy of marketing initiatives, breaking into new markets, or seeking ways to get ahead of the competition, firms recognise that getting the right data to the right person at the right time is a key prerequisite to business success.
However, recognising the importance of data and analytics is one thing. Actually putting in place the processes and tools required to deliver data and analytics in the most efficient and appropriate way to meet the needs of business decision-makers is a different matter:
The majority of organisations continue to struggle to get the desired value out of their BI investments (see chart, below). Business users' complaints about their ability to access the data they need to support a decision when they need it from their enterprise BI applications include, for example: insufficient or inaccessible data, excessive or "wrong" data, untrustworthy data, unacceptably long turnaround times for new reports or other BI capabilities, or BI tools that just are not right for the job.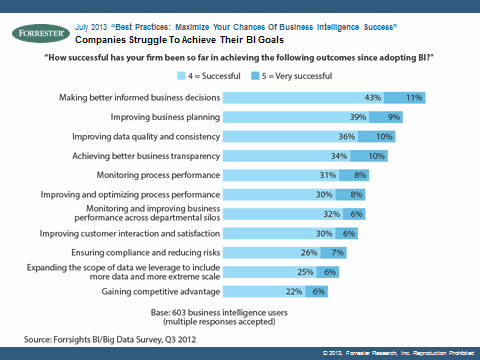 There are many reasons for this long list of grumbles from business users, and why so many of them create their own analytics environments using spreadsheets or procure data discovery and visualisation tools without involvement from their colleagues in IT. A lack of governance and business ownership, over reliance on traditional IT approaches, and not having a knowledge management and collaboration environment, are among the most important of reasons.
BI projects are business projects
To understand what distinguishes a successful BI implementation from one that struggles — or even fails completely — Forrester spoke with 15 BI specialists and carried out extensive secondary research. What we found is that methodologies, tools, and processes certainly help deliver successful BI projects, but can't make the difference between failure and success on their own. We defined some best practices that can make this difference. Here are three of those best practice tips:
Best practice tip No. 1: Put the business into business intelligence
This may sound like a foregone conclusion, but it isn't. Some BI projects fail at an early stage; others go right through to final delivery and signoff before someone declares they don't meet expectations. The most commonly cited reason in all cases is a lack of involvement from the business, either at the executive or subject matter expert level — or most often both. But it's about more than just having a business sponsor and a set of requirements — it's about having the relationships and processes in place that ensure collaboration with business executives.
Best practice tip No. 2: Be agile and aim to deliver self-service
Even the best-planned and -supported BI deployment will not achieve the desired result if the chosen development methodology isn't suited to delivering a BI initiative. One way to maximise the chances of BI project success, is to use agile methods where possible. Note that this doesn't have to be "agile" in the strict sense of following a set methodology. For the majority of experts we spoke with, it's about being "agile" and taking an iterative approach, with the emphasis on breaking all elements of a project into the smallest possible chunks, working collaboratively, and reviewing tangible deliverables frequently. 
Best practice tip No. 3: Put a solid governance foundation in place
In the context of BI, there are two key aspects to governance: data governance and governance of the BI deployment itself. In order to use data to improve operational efficiency and gain competitive advantage, organisations first need to understand what data they have available from internal and external sources and the value that this data has in terms of process improvement, decision-making, development of new products and services, and so on. They also need to be clear how they define each data item and what internal and external rules apply to the capture, storage, and further processing of such data. BI governance covers rules and processes pertaining to report creation, ownership, distribution, and usage, as well as prioritisation of must-have and nice-to-have capabilities. 
Times are changing; your approach to BI must change
How companies use the data that's available to them from internal and external sources is increasingly going to be a key competitive differentiator, if not the key competitive differentiator. 
Applying the best practices above will help deliver the BI capabilities required to make organisations more data-driven — in particular the importance of agility and business user self-service. But it doesn't stop there.
Whether you call it "big data" or not, increasing data volumes and the variety of data types that firms must process pose a challenge to existing ways of delivering BI and analytics capabilities.
Increasingly tech-savvy business professionals want to have a greater say in the software tools and hardware devices they use as part of their job, and there's a greater variety to choose from than ever before. 
Firms need to adapt their governance frameworks, technology infrastructures, and tools to strike the right balance between enabling the business to get on with its job and maintaining control where necessary to avoid cost overruns, duplication, and compliance breaches.
Martha Bennett (pictured) and Boris Evelson are principal analysts at Forrester Research, where they serve the information needs of application development and delivery professionals. Click here to read more best practice tips from Forrester for BI/analytics success.