In 2022, agents were increasingly likely to see wholesale brokerages, MGAs, and the specialty markets as a preferred partner, and this represented a dramatic change from 2021.
"As we've been tracking this, carriers had taken up that 50% plus role every year [for three years] until 2021, so the majority of agents preferred working via direct appointments with their carriers," Johnny Yarbrough (pictured), Appulate director of business development, told Insurance Business.
"That started to change in 2021 … what happened was, almost 50% of agents, instead of saying they wanted to work with carriers, said 'I don't care, I'll work with anybody – if you can give me a quote, and it's competitive, and you can pay me good commission, and I can service my insured better, I'll work with you.'
"As far as preferences, they didn't have these large preferences for wholesale and MGA or specialty markets; it was starting to emerge, but we're only talking about 15% of the marketplace here, so it wasn't that big – but this year was drastic."
Carriers slide as MGAs, wholesale brokerages, and the specialty markets prosper
In its latest Annual Agent Survey, insurance technology provider Appulate crunched responses from around 16,000 agents, representing 50 states.
As of 2022, just 30.3% of those surveyed said that carriers were their partner of choice, a decrease on the previous year's 36.9%.
In 2021, 48.5% of agents had said they preferred to work with all market types, but this shrank to 18.2% for 2022.
Wholesale brokerages were the preferred choice for 17.2% of respondents, tying with specialty markets. In 2021, just 5.3% of agents had said they preferred to work with the former, and 3.9% with the latter.
MGAs also saw growth in terms of the proportion of agents who saw them as the top choice, booming from 5% in 2021 to 14.1% in 2022.
PEOs, too, were selected as the best option by an increasing percentage of agents, at 3%. This was up from 0.3% in 2021.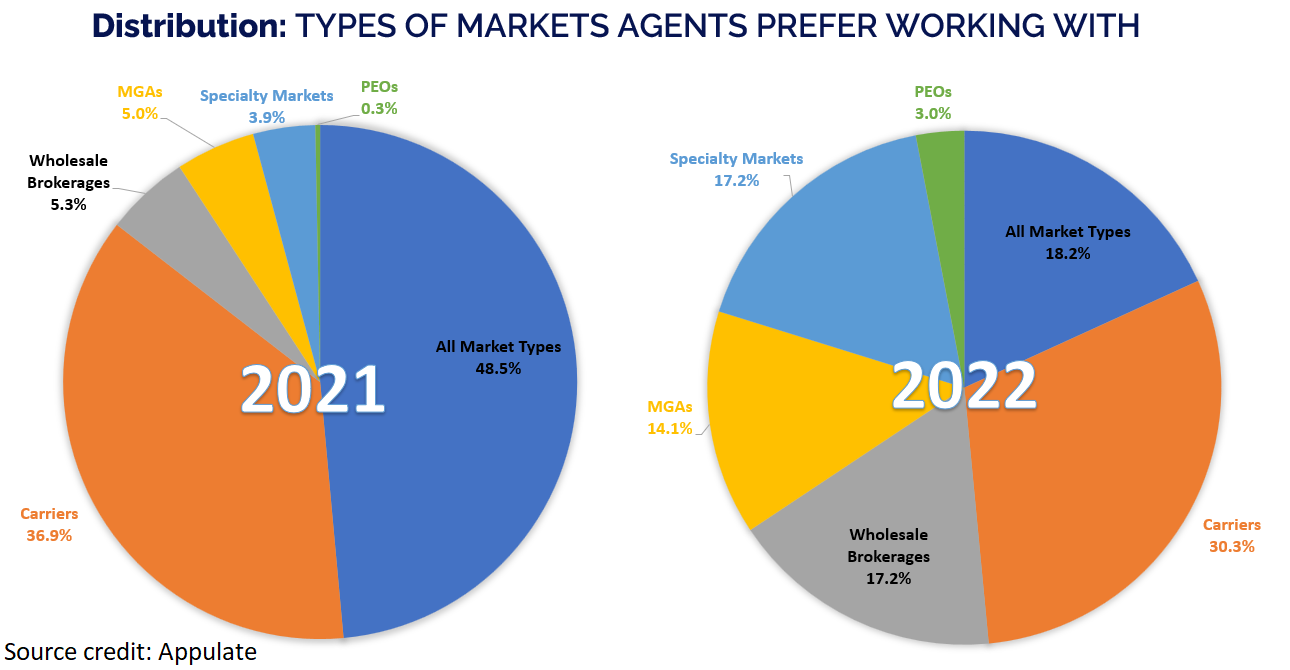 What are the top five partners of choice for insurance agents?
The five top preferred partners for agents, according to Appulate's 2022 Annual Agent Survey, were:
Carriers, 30.3% (2021: 36.9%)

All market types, 18.2% (2021: 48.5%)

Wholesale brokerages, 17.2% (2021: 5.3%)

Specialty markets, 17.2% (2021: 3.9%)

MGAs, 14.1% (2021: 5%)
Why have insurance agent preferences changed?
For Yarbrough, the shift shows that market conditions and technological advances have led to agents "opening up their minds", and they've liked what they've found.
"Those good experiences translated to [agents saying they] prefer working with a wholesaler or an MGA, because they are putting their products online, they're more digitally focused, there's a lot more personal relationship there," Yarbrough said.
With restrictive appointment requirements with carriers potentially proving "really tricky" for agents, this could be a driving factor for a preference change, the director mooted.
"Even carriers that don't have restrictive requirements to get appointed still only allow you to submit certain types of risks in certain types of business, and so you still would have to go to an MGA, for example, to write certain class code," Yarbrough said.
Changing industry demographics, too, could be a factor, as younger generations enter insurance and take the helm at broking businesses, and leaders make peace with technology.
"Some people are more tech savvy than they used to be … and are adaptive to new things," Yarbrough said. "I think they get a better overall experience."
Not all doom and gloom for carriers
Carriers' dominance as the agent partner of choice may appear to be under threat, but the survey results do not mean that they will slide into irrelevance, according to Yarbrough.
Insurance companies are building on their propositions and looking at ways to increase their digital reach – they're just "a lot slower".
"If carriers react to this, and they get back on board with some of these new ideas … we're going to see this probably go back the other direction in some ways," Yarbrough said. "But what we're seeing now is a more diverse marketplace."